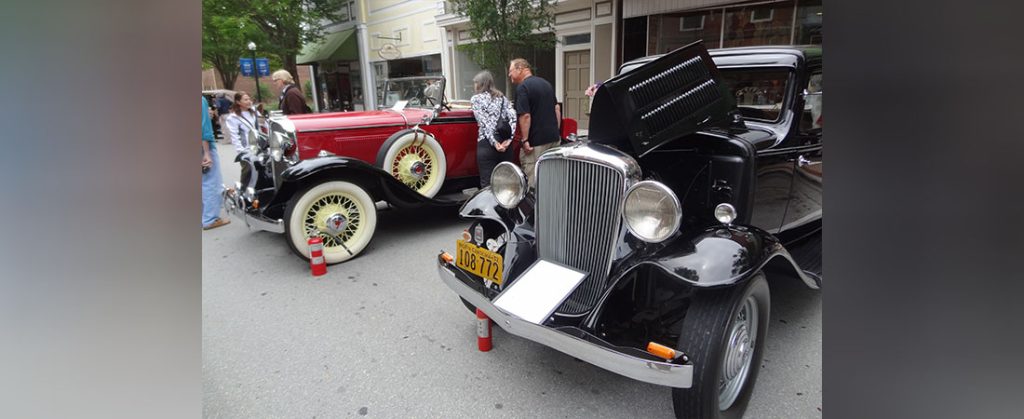 Do you have a 1938 Delahayne 135M Roadster or a 1934 Ford Model 40 Speedster?
Or how about a sleek 1941 Chrysler Thunderbolt or a 1919 Pierce Arrow that stands seven feet tall at its highest point?
It is unlikely that you do because they rank among the rarest vehicles in the world. Fewer than a dozen 135M roadsters are still around and only one taper-tailed Model 40 Speedster exists. As for the one-of-a-kind Pierce Arrow, it was customized for silent movie actor Roscoe "Fatty" Arbuckle, and with its six-cylinder, 825 cubic inch displacement was the largest engine for an automobile in 1919.
While you may not own a rare or exotic vehicle like Arbuckle's flashy purple Pierce Arrow featuring garish white tires, you may have a 1930 Ford Model A, a 1946 Lincoln Continental convertible or a 1979 Pontiac Trans Am. If you do it's a candidate along with all other vintage vehicles for entry in the First Capital Chapter of the Antique Automobile Cub of America's 30th Annual Antique Automobile Show scheduled for Saturday, May 14 in historic downtown New Bern.
Zach Simons, First Capital president, said any automobile 25 years old or older may be entered in the show regardless of make, model or condition, and an owner does not have be an AACA club member. The registration fee is $20 per vehicle in advance and $25 the day of the show. Registration forms are available on the internet at ncregionaaca/firstcapital.com, by email, or by calling Simons at 252-626-0268. The first 100 registrants will receive collectible dash plaques. Trophies will be awarded to the two top rated autos in each of the various AACA classes of vehicles.
Upwards of 100 automobiles are expected to enter the show which will feature not only cars but also trucks, jeeps, motorcycles, mopeds and other motorized vehicles produced to be driven on the road and to carry passengers. A crowd-pleaser that has attracted thousands of car devotees and the curious to the city over the years, the show has been held every year since 1992, except for 2020 when it was cancelled due to the Coronavirus epidemic.
The show vehicles will be parked back bumper to curb along tree-shaded Middle Street from South Front Street to Broad Street and on sections of Pollock and Craven streets. The meet begins at 8:00 a.m. with vehicles entering the show area from South Front Street and concludes with the awarding of trophies at 3:00 p.m.
In the heart of three-century-old New Bern with its classically preserved buildings dating back to the early 1700s, the show field is within walking distance of such historic attractions as the North Carolina History Center, Tryon Palace, the Firemen's Museum and various civil war sites, as well as the Pepsi Store and Mitchell's back-in-time hardware emporium.
By Ben St. John, First Capital Chapter AACA