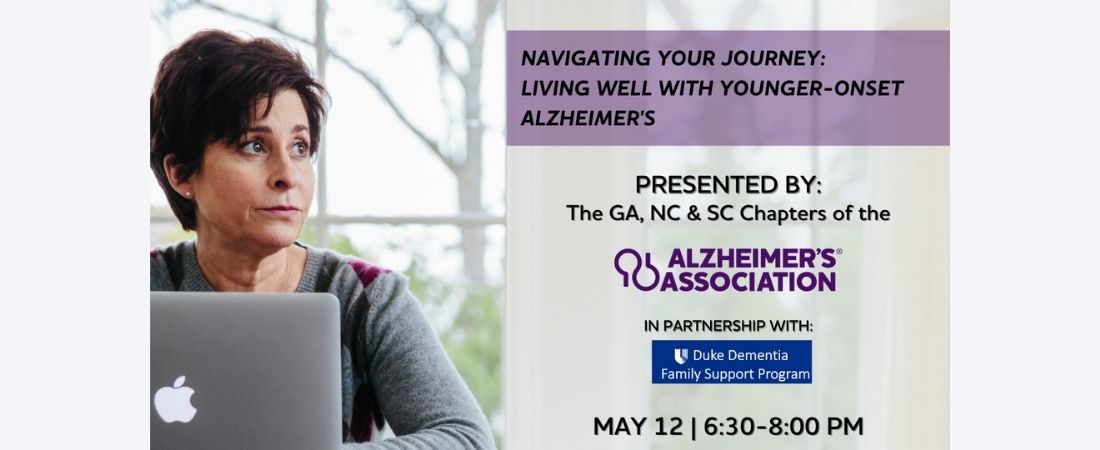 The Alzheimer's Association chapters in North Carolina, along with the Duke Dementia Family Support Program, announce a special program, "Navigating Your Journey: Living Well with Younger-onset Alzheimer's," taking place statewide on Thursday, May 12.
Alzheimer's disease is considered to be younger-onset Alzheimer's if it affects a person under age 65. Those living with younger-onset dementia will face unique challenges when it comes to family, work, finances and future care. While these discoveries may be difficult at first, it can help relieve some of the anxieties and fears one may have about the future, and allow them more time to focus on the things that bring joy and appreciation for them and their loved ones.
"When someone under 65 is diagnosed with younger-onset Alzheimer's disease or a related dementia, the first reaction is often shock or denial," said Lisa Roberts, executive director of the Alzheimer's Association, Eastern North Carolina Chapter. "Getting answers to common questions and connecting with families who have been diagnosed can make a monumental difference in the journey for individuals living with younger-onset [Alzheimer's] and their care partners."
"Navigating Your Journey: Living Well with Younger-onset Alzheimer's" will take place via webinar on from 6:30 p.m. – 8:00 p.m. This program is a tailored program to get answers to the questions that arise for people concerned about younger-onset Alzheimer's disease or a related dementia. Participants will hear from those directly affected and learn what they need to know, plan, and do to ease the impact throughout the course of the disease. Speakers will include Deborah Rose, M.D., a junior resident at Duke University School of Medicine Dept. of Neurology & Alzheimer's Association community educator, as well as, Bobbi Matchar, MSW, MHA and Janeli McNeal, MSW of the Duke Dementia Family Support Program and a panel of individuals living with younger-onset Alzheimer's and caregivers.
In addition to the expert speakers and guest panelists this webinar will offer time for discussion as well. This program is open to the general public and individuals and families affected by dementia. There is no charge to participate, but registration is required and a recording of each program will be made available to all registrants.  Attendees can participate via video/webinar or through a toll-free number. Sign up here or call 1-800-272-3900.
Additional Facts and Figures:
An estimated 6.5 million Americans age 65 and older are living with Alzheimer's dementia, including 180,000 North Carolina residents, a number estimated to grow to as many as 210,000 by 2025.
Nationally, more than 11 million caregivers of people with Alzheimer's disease or other dementias. In North Carolina, 356,000 caregivers provide a total of 514 million hours of unpaid care, valued at a total of $7.3 billion.
One in three seniors dies with Alzheimer's or other dementia.
Nearly two-thirds of those with Alzheimer's⁠—3.9 million—are women.
Older non-Hispanic Blacks and Hispanic Americans are disproportionately more likely than older whites to have Alzheimer's or other dementias.
By Christine John-Fuller, Alzheimer's Association