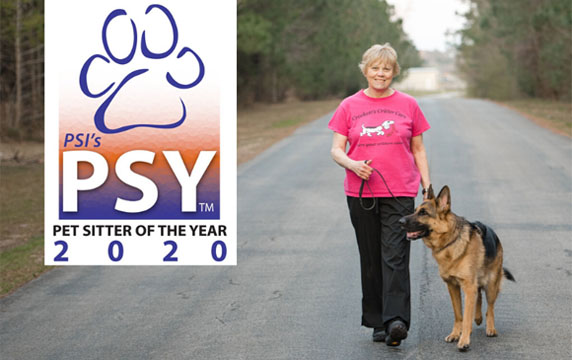 Jeanne Crockett, owner of Crockett's Critter Care in New Bern, North Carolina, has received the professional pet-sitting industry's highest honor and will represent the industry throughout 2020.
KING, N.C. – Pet Sitters International (PSI) has named Jeanne Crockett, owner of Crockett's Critter Care in New Bern, North Carolina, the 2020 Pet Sitter of the Year™. PSI, the world's largest educational association for professional pet sitters, presents this award annually to a pet-sitting business owner who embodies the passion and professionalism of the pet-sitting industry.
"PSI's membership is comprised of the most professional and educated pet sitters in the industry, so selecting a recipient for this honor is never an easy task for the judges," said PSI President Patti J. Moran. "With her commitment to continuing education and professionalism, Jeanne epitomizes all that a professional pet-sitting business owner should be, and we know she will be an inspiration to our industry as the 2020 Pet Sitter of the Year."
As PSI's 2020 Pet Sitter of the Year, Crockett will serve as the "face of the professional pet-sitting industry" throughout 2020 and will be officially crowned at PSI's 2020 Pet Sitter World Educational Conference in October.
"From the beginning, PSI helped me mold my business, and this award will allow me to give back to my colleagues," said Crockett. "Pet Sitter of the Year is not just an award; it comes with the responsibility to share my knowledge and to support the members of PSI and our industry as we all strive to be respected professionals."
Crockett joined PSI in 2009, nearly three years before officially opening Crockett's Critter Care in 2012. Since that time, she has grown her business by leaps and bounds. Her company now employs six staff sitters and serves approximately 115 households. Crockett has also focused on furthering her education in the pet industry—obtaining her Certified Professional Pet Sitter® designation from PSI and her Level 3 status in the Fear FreeSM program, as well as completing the Infectious Disease Management Program.
Despite a busy pet-sitting schedule, Crockett is committed to her local pet community. Since 2002 she has been active in the local rescue community, volunteering for Fran's Felines, Pals for Paws, and Colonial Capital Humane Society. She has served as an officer, board member, fundraiser, event coordinator, grant writer, newsletter editor, foster parent, and more. After Hurricane Florence, Crockett volunteered to walk the dogs stranded at the shelter as they waited to be reunited with their pet parents. Now she continues to support the local rescue groups by posting adoptable pets on her Facebook page, encouraging people to adopt a shelter pet, and promoting the need to donate locally to support the shelters.
The other top-five finalists in the 2020 Pet Sitter of the Year competition were:
Caraline Brockman, CPPS®; Cara Care LLC; Chicago, Illinois
Shannon Huskins, CPPS®; Paws & Purrs Feline Services; Marietta, Georgia
Cynthia Johnson; Copy Cat & Dog Care Pet Sitting; Lebanon, Ohio
Kim Ottone Tank, CPPS®; Apronstrings Pet Sitting; Pollock Pines, California
To learn more about PSI's Pet Sitter of the Year award, locate a PSI member pet sitter in your area or request more information about pet sitting as a profession, visit PSI's website at www.petsit.com. To learn more about Jeanne Crockett and Crockett's Critter Care, visit www.crockettscrittercare.com.
Submitted by: Beth Stultz-Hairston, Vice-President, Marketing & Operations | Take Your Dog To Work Day® spokesperson, Pet Sitters International