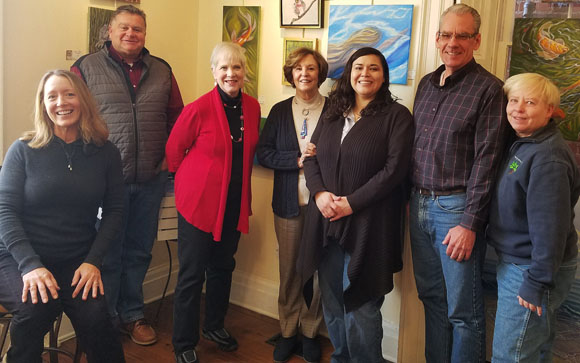 Episode 131
Connecting you with our community as we talk about the people, places, and the latest happenings in and around New Bern! During the show we talked about community news from locals; along with businesses and nonprofits!
During this show, New Bern Now's Podsquad: Claudina Madrid and Lisa Bisbee-Lentz (Greater Good Gallery), Susan Moffat-Thomas, Kathy Morrison (New Bern Historical Society), Rich Sheridan (Crystal Coast Discovery Map), Blaine Staat (Weichert Realty at Rivers Edge) and I talked about all the wonderful goings on in and around Town.
We're excited as this is our second live road show on location at The Greater Good Gallery! We hope you join us on journey as we showcase businesses and non-profits in New Bern and beyond as we continue to connect you with our community!
Special thanks to Mike and Lisa Bisbee-Lentz, owners of the Isaac Taylor House and Greater Good Gallery for sponsoring todays show! Visit the Greater Good Gallery at 227 Craven Street, call 252-649-1712.
Listen here:

Show Notes:
00:42 – Greater Good Gallery inside the Isaac Taylor House
1:38 – Holiday Season in Downtown New Bern
2:44 – Artist Claudina Madrid
5:04 – Realtor Blaine Staat
6:57 – Decision to "Go Live"
7:30 – Interview with Amber Gibson with Underground Artists
9:22 – Catching up with Susan
10:51 – Updates from the New Bern Historical Society
– Gingerbread House Tour
– Honour The Musical
– Civil War Lecture
12:41 – Trivia
13:55 – Live Window Displays
14:23 – Catching up with Lisa, The Weiner House, Isaac Taylor House and the Greater Good Gallery
18:45 – Support Local Artists and Businesses
19:57 – Catching up with Rich
21:09 – Christmas Past and Present
23:37 – New Bern Civitan Club's Christmas Tree Sales and Fundraiser
24:58 – Congratulations, Becky Badger! Winner of New Bern Now's Facebook Contest.
23:48 – New Bern Farm and Garden
Staytrippin':
26:40 – Ribbon Cutting for Crema Brew & S.L. Revival
27:11 – Jingle Bell Trot
27:24 – Craven Community Chorus Presents: "Appalachian Christmas"
27:33 – Miracle on 34th Street, The Musical
26:17 – A Family Christmas, "Home For The Holidays"
28:28 – Pancakes for PIE
29:06 – Breakfast with Santa benefiting the CarolinaEast Foundation
29:21 – Breakfast with Santa benefiting Creekside Recreational Therapy Services
29:34 – Tucker Creek Middle School Band for their Winter Gala
29:49 – Christmas Parade
30:16 – 35th Annual Coastal Christmas Flotilla
30:00 – 35th Annual Coastal Christmas Flotilla
30:31 – A Family Christmas Concert with Strung Together
30:44 – Pet Photos with Santa Fundraiser
31:20 – Bed & Breakfasts Holiday Open House
31:57 – Statewide Holiday Pops with Conductor Wesley Shulz
32:15 – New Bern ArtWalk
32:45 – Craven Smart Start Holiday Hustle
33:01 – 21st Annual Cookie Walk
33:28 – 21st Annual "The Holly & The Ivy" Holiday Homes Tour
35:01 – Wreaths Across America
35:22 – Book Signing with Author Leslie Tall Manning
35:30 – Craven Messiah Chorus presents 37th performance of George Friderich Handel's Messiah
35:50 – New Bern Chapter of the Hearing Loss Association of America for Yearly Social
36:00 – Coastal Women's Forum Networking and Dinner
36:11 – Tryon Palace Events:
– Chamber Music by Candlelight
– Pearl Harbor Remembrance Day: Free Film and Lecture
– Behind the Scenes: Museum Technology
– Discovering Tryon Palace: Holiday Décor
– Lunch & Learn, The Great Fire of 1922 by Carol Becton
– Christmas Belles: A Candlelight Celebration (Night One)
– Behind the Scenes: Conservation Lab
– Discovering Tryon Palace: Holiday Décor
38:01 – New Bern Farmers Market
38:23 – New Bern Music Calendar's Facebook page
38:49 – Social Media Minute
40:15 – BrÜtopia Brewery and Tap Room
42:00 – Daytrippin'
– Carteret County Flotilla
– Holiday Brunch with Santa
– Santa by The Sea and Eagle Exhibit
– Fort Macon Live Cannon Firings
– Morehead City Christmas Parade
– Beaufort Holiday Walking Tour and Candlelight Tour
– Marshallberg Farm and Russian Caviar Tours
48:58 – Santa comes to Town
49:47 – We welcome businesses and non-profits to participate in our Contests
50:57 – Holiday Trivia Questions
55:09 – New Bern's News Talk Radio Station WNOS 103.9FM and 1450AM
Join us on Thursday, December 19th…live at New Bern Arts and Wellness from 1 – 2 p.m. Stop by and say hello and do some shopping!
Let us know if you want to host our show, join us as a guest, or have any questions, comments or suggestions by calling 252-259-6853 or sending us an email at info@newbernnow.com.
Wendy Card