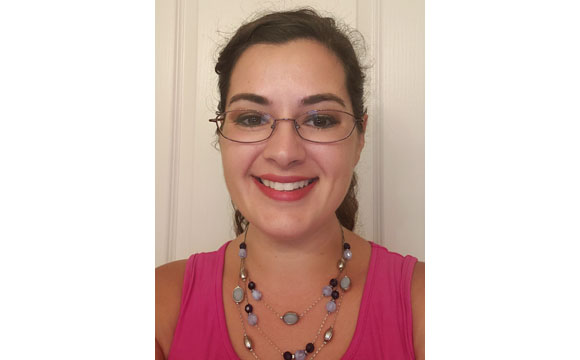 New Bern, NC – Every year, Craven Community College selects an adult student to receive a scholarship from CWF to give her a hand up as she works and studies her way to success. The 2019-2020 Coastal Women's Forum Scholarship was recently awarded to Jennifer Armknecht of New Bern. ​Jennifer is currently studying Early Childhood Education at Craven Community College. She is an active mom who is pursuing a higher education degree for the first time. Jennifer's husband, Dylan, is a Marine who has served for 22 years. The couple has four children, ages 7 to 13.
This military family has traveled throughout the US and several countries abroad. Jennifer's husband will be retiring from active duty in 4 years and plans to pursue a career as a high school history teacher. Both Jennifer and Dylan want to have schedules similar to those of their children. This is one reason why Jennifer decided to pursue an Associate's Degree in Early Childhood Education. The Early Childhood Education program at Craven Community College focuses on hands-on learning through experiences rather than instructions. Jennifer says she loves to work with children, to inspire them, to watch them grow and develop.
For more information contact Penny Zibula.
For over 30 years, Coastal Women's Forum (CWF) has provided women of all ages, professions and stages of life with a wealth of options for personal and professional growth. CWF offers opportunities for networking, education and encouragement. twice-monthly through relevant programs and presentations. The collective knowledge, experience and expertise of CWF's membership represents a valuable resource for individual members, as well as the community. Information about CWF and the scheduled programs for evening and daytime meetings can be found at CoastalWomensForum.com.
By Contributing Author, Penny Zibula, Six Legs Will Travel