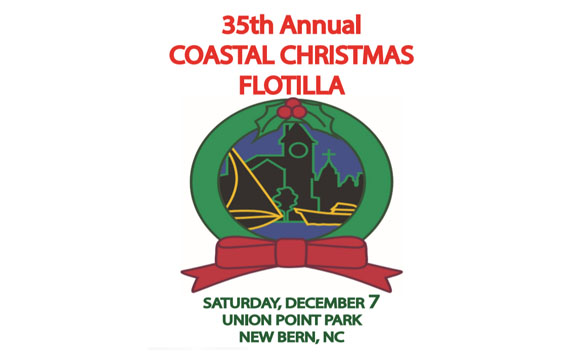 New Bern, NC – The 35th Annual Coastal Christmas Flotilla returns to New Bern on Saturday, December 7th!  The Flotilla will be held at Union Point Park, 210 East Front Street in downtown New Bern. Activities kick off at 4:30 p.m. with a Christmas concert featuring local favorites Lewis N Clark. The flotilla will begin around 5:30 p.m. Food vendors will be on site. Toys will also be collected in the Gazebo for anyone wishing to donate a toy to the Toys for Tots program. New unwrapped gifts for children up to age 12 will be accepted. Toys will be distributed to children in our community.
This year, the public will have an opportunity to vote on the "People's Choice Award" for best overall boat. Details on how the voting will take place will be announced during the Flotilla.
"The annual Flotilla is a holiday tradition in New Bern." Said Foster Hughes, Director of Parks and Recreation. "We look forward to seeing everyone at this annual event and hope you enjoy the sights and sounds of the holiday season." After the Flotilla, you can visit Santa Claus downtown in Bear Plaza.
Flotilla Applications will be accepted through Friday, December 6th for any boaters interested in being a part of this year's event. Applications are available on our parks and recreation page online at NewBernNC.gov.
The 35th Coastal Christmas Flotilla is sponsored by New Bern Grand Marina Yacht Club and Trent Cadillac GMC. This event is presented by New Bern Parks and Recreation. For additional information contact New Bern Parks and Recreation at 252-639-2901.
Submitted by: Foster Hughes, Director, New Bern Parks and Recreation