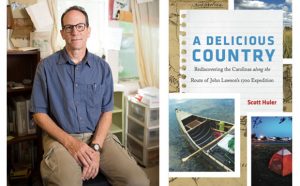 Author Scott Huler Speaks at Historical Society Annual Lore Lecture November 17
NEW BERN, NC, John Lawson did it in the 18th century, why couldn't he in 21st? In truth, Scott Huler found he could! On November 17 at 2pm at the Cullman Performance Hall at the North Carolina History Center, Huler will tell you about his own marvelous journey following in Lawson's footsteps. The result, his book, A Delicious Country: Rediscovering the Carolinas along the Route of John Lawson's 1700 Expedition, chronicles that unlikely journey.
In December 1700 John Lawson, a young man from London hoping to make a name for himself traveled to the Carolina Colony. For reasons oft-debated in these parts, he undertook a two-month journey through the still-mysterious Carolina back-country. His 1709 book, A New Voyage to Carolina, was considered the finest description of the Carolinas in the early colonial period. Historians and scientists today still refer to his descriptions of flora, fauna, inhabitants, and geography.
In 2014, as an MIT Knight Science Journalism Fellow, Huler undertook his own journey by foot and canoe, faithfully retracing Lawson's route through the Carolinas. Combining a traveler's curiosity, a naturalist's keen observation, and a writer's wit, he finds surprising parallels between Lawson's time and our own.
The author of seven books of nonfiction, Scott Huler has written on everything from the death penalty to bikini waxing, from NASCAR racing to the stealth bomber, for such newspapers as the New York Times, the Washington Post, the Philadelphia Inquirer, and the Los Angeles Times and such magazines as Backpacker, Fortune, and ESPN. His award-winning radio work has been heard on "All Things Considered" and "Day to Day" on National Public Radio and on "Marketplace" and "Splendid Table" on American Public Media. He has been a staff writer for the Philadelphia Daily News and the Raleigh News & Observer and a staff reporter and producer for Nashville Public Radio. He was the founding and managing editor of the Nashville City Paper. He has taught at such colleges as Berry College and the University of North Carolina at Chapel Hill. His books have been translated into five languages.
Huler was a 2002-2003 Knight-Wallace Fellow at Michigan, 2011 Piedmont Laureate in creative nonfiction, and a 2014-2015 Knight Science Journalism Fellow at MIT. He currently works as the senior writer at Duke Magazine and lives in Raleigh, North Carolina, with his wife, the writer June Spence, and their two sons.
A reception and book signing follows the presentation. Cost is $10 per person; prepaid reservations strongly recommended. To reserve your seat, please contact the Historical Society office at 252.638.8558. To reserve online: NewBernHistorical.org/tickets.
The mission of the New Bern Historical Society is to celebrate and promote New Bern and its heritage through events and education. Offices are located in the historic Attmore-Oliver House at 511 Broad Street in New Bern.
For more information, call 252-638-8558 or go newbernhistorical.org or facebook.com/NewBernHistoricalSociety.