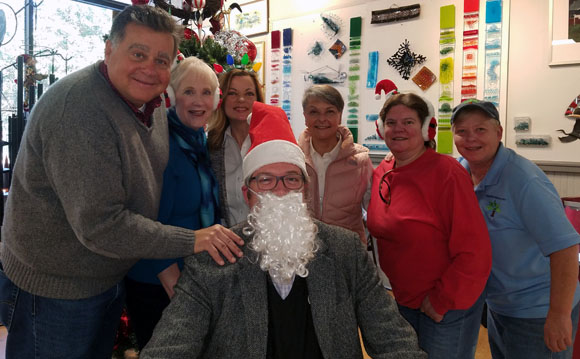 November 21, 2019
Episode 130
Connecting you with our community as we talk about the people, places, and the latest happenings in and around New Bern! During the show we talked about community news from locals; along with businesses and nonprofits!
During this show, New Bern Now's Podsquad: George Oliver (Law Offices of Oliver & Cheek), Kathy Morrison (New Bern Historical Society), Colleen Roberts (City of New Bern), Rich Sheridan (Crystal Coast Discovery Map), Virginia Spencer, and I talked about all the great happenings in and around town.
We're excited as this is our first live road show! The journey in showcasing local businesses and non-profits in New Bern and beyond has begun as we continue to connect you with our community!
Special thanks to Virginia Spencer, owner of Carolina Creations Fine Art and Contemporary Craft Gallery for sponsoring this episode! Visit Carolina Creations at 317-A Pollock Street, call 252-633-4369 or check out their website at carolinacreations.com.
During the show, we gave away prizes to onsite and online viewers. Winners were: Laura Snider, Judy Stanley, Bonnie Baker, Victoria Fele, and Celinda Forero!
Listen here:

Show Notes:
00:57 – Carolina Creations
1:38 – Taking the Show on The Road – Mobile through New Bern and Beyond
2:33 – Prize winners
3:07 – Catching up with the Podsquad
6:46 – Interview with Mary Davidson at The Four C's
7:35 – Gingerbread Houses in Downtown New Bern
9:09 – Interview with Bob Burns and Laura Snider with Pollock-Best Funeral Home
12:53 – Lighting of The Christmas Tree and Santa Parade
15:04 – Write a Letter to Santa
15:37 – Gingerbread House Displays and Contest
19:16 – Honour The Musical
20:19 – Gift Recommendations
20:49 – Interview with Rowland Bowen of Rowland Bowen and The Home Sales Team
28:40 – Discovering Carolina Creations
– Artist Barbel Brooks
– New Bern Chamber Business After Hours
– Resident Artist Jan Francoeur
37:55 – Live Window Display
39:38 – A Family Christmas with Strung Together
40:42 – Opportunity to Host "The Podsquad" at your business or non-profit
42:45 – Sharing Special Memories and Happenings in New Bern
– Christmas Caroling
– Beary Merry Christmas
– Swiss Bern Christmas Houses
– People coming together for the Holiday Season
46:50 – Holiday Trivia
51:15 – Daytrippin' to the Crystal Coast
– Christmas Flotillas
– Shop Local
– NC Maritime Museum
– NC Aquarium at Pine Knoll Shores
55:05 – New Bern's News Talk Radio Station WNOS 103.9FM
55:37 – Wishing everyone from all faiths a wonderful Holiday Season
For the latest happenings and events, visit NewBernNow.com as we receive information and update the community calendar every day!
Let us know if you want to host our show, join us as a guest, or have any questions, comments or suggestions by calling 252-259-6853 or sending us an email.
Wendy Card