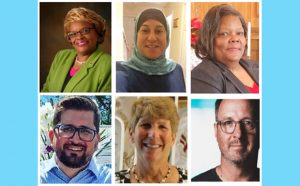 A Community Forum Featuring Voices of the Faithful on Sunday, November 17, 2019 at 3:30 p.m. – 5:00 p.m. at The Harrison Center located at 311 Middle St. in Downtown New Bern.
Faith Connection of New Bern invites you to join us for a  community forum where spokespersons from varied faith traditions will address the timely topic of "Love Mercy, Do Justice."
Moderated by Tharesa Chadwick Lee, Facilitator, Advocate, Pastorate, and Social Entrepreneur.
Panel will include:
– Samar Badwan, Vice President Hanan Refugee Relief Group
– Elder Erlinda Dobson, New Bern District AME Zion Church
– Rev. David Fuentes, Pastor, West New Bern Presbyterian Church
– Marsha Luhrs, Education Director, B'Nai Sholem Temple
– David McCants, Lead Pastor, Two Rivers Church
Admission is FREE! Refreshments will be served.
This event is sponsored and presented by Faith Connection of New Bern. www.FaithConnection-NB.org
Submitted by: Jim Hackett