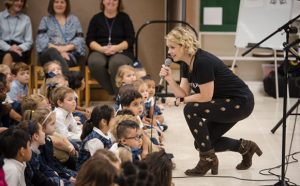 Students Receive Mini-Concert from Croatian Pop Star
International recording artist Tajci Cameron visited Saint Paul Catholic School this morning and gave a free mini-concert for students. The performance, provided by Craven Concerts, Inc., was a musical cabaret-style show of the American Songbook, to which she added her own international flair.
Cameron, a singer/songwriter, became a pop star at the age of 19 in her native country of Croatia. After moving to America and graduating from the American Musical and Dramatic Academy, Cameron continued to grow her career in music by landing parts in musicals such as Kiss Me Kate, Miracle on Christmas, ​ and Phantom of the Opera. She has also written her own full-length musical titled ​My Perfect Beautiful Life. Cameron has released more than 10 albums which have sold millions of copies internationally.
Saint Paul Catholic School is a ministry of Saint Paul Parish. It is dedicated to the spiritual, intellectual, physical, and social development of each student. Saint Paul strives to educate the whole child and welcomes students of all faiths.
For more information, please contact Principal Dave Kierski at 252-633-0100.
Submitted by: Bob Mackowski, Marketing Coordinator, Saint Paul Catholic School