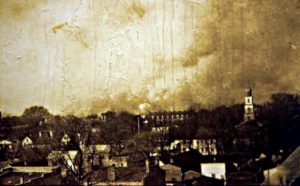 New Bern Historical Society Lunch & Learn Remembers
New Bern, NC – It was on December 1, 1922, nearly 100 years ago. A fire started at the Rowland Lumber Company on the banks of the Neuse River. Then another fire started in a home on Kilmarnock Street near the Five Points intersection. And many of the city's firefighters were attending a state championship football game in Raleigh. And the winds were whipping up a firestorm. The result was the Great Fire of 1922. More than 3,000 people were left homeless and 40 city blocks destroyed.
At the New Bern Historical Society's December 11, 11:30 a.m. Lunch & Learn at The Chelsea, Carol Becton, will share the story of the fire, its results, and the aftereffects that are still with us.
Carol Becton is a native New Bernian, widow of the late Captain James E. Becton of the New Bern Police Department and mother of three. She is a member and Vice President of the Martin Luther King Jr. Outreach Ministry, and the Climbers Club of New Bern. She also serves as a Commissioner for the New Bern Housing Authority, on the Board of Directors of the New Bern-Craven County Public Library Regional Board and serves on the Board of Directors of the New Bern Historical Society
Carol attended New Bern City Schools and graduated from J. T. Barber High School in 1970 and went on to North Carolina Central University in Durham and received a BA degree in English Education.  She received her Masters Degree in Educational Administration from East Carolina University in Greenville, NC. Carol was an educator in New Bern City, later Craven County Schools for over 34 years retiring as Principal.  She enjoys being a part of maintaining the legacy of the rich history of New Bern and being an active participant in preserving its rich history and sharing the story of our state's "Colonial Capital".
Lunch & Learn starts at 11:30 a.m. at The Chelsea Restaurant, 335 Middle Street, New Bern. The cost is $17 for Historical Society members and $22 for non-members; lunch is included. Advance reservations must be made by calling the New Bern Historical Society at 252-638-8558, or can be ordered at www.NewBernHistorical.org/tickets. Lunch choices: Chicken Marsala with Fire Roasted Tomato and Parmesan Risotto and Sautéed Green Beans or Coral Shrimp Pasta. Dessert is Lemon Layer Cake
The mission of the New Bern Historical Society is to celebrate and promote New Bern and its heritage through events and education. Offices are located in the historic Attmore-Oliver House at 511 Broad Street in New Bern.  For more information, call 252-638-8558 or go https://www.newbernhistorical.org  or Facebook.com/NewBernHistoricalSociety.
Submitted by: Kathy Morrison on behalf of Mickey Miller, Executive Director, New Bern Historical Society