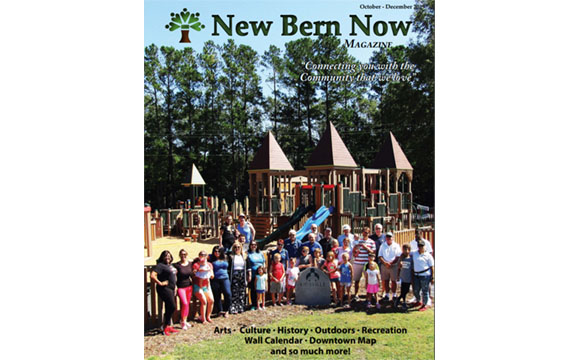 New Bern Now's Magazine has been available online in full color with links to important websites! View it here.
A lot of people really enjoy holding and reading the print edition!
Featured stories include: Howard Matthews "New Bern's Music Man", Return of the Crystal Lady: Michaelé Rose Watson, Award Winning Author Michelle Garren Flye, and Captain Kevin Dewar – Neuse River Fall/Winter Fishing Report!
Regular stories include: Our town, Healthcare, Things to do, Education, Dining, Business and Non-profits, Staying in New Bern, Explore the Arts, Step Back in Time, Discover the Great Outdoors, Daytrippin', Weekend Getaway, and Photos Around Town!
Unique features: Wall Calendar and our Downtown Map that features our advertisers, points of interest, and historic landmarks!
Hardcopies are available at numerous locations throughout the Greater New Bern areas! Here's some of numerous locations where you can get the print edition:
– The Accidental Artist
– Acupuncture Works
– A Dog's Dream
– Bear Tech Solutions
– Bill's Pet Store
– The Birthplace of Pepsi
– The Brown Pelican
– The Bruin Craft Beer & Wine
– Carolina Creations
– Carolina Colours
– City Hall
– Coastal Carolina Regional Airport
– Courtyard by Marriott
– Craven Animal Hospital
– Craven County Habitat for Humanity ReStore
– The Four C's
– Hanna House Bed & Breakfast
– The Isaac Taylor House
– Kincaid and Purvis Family Dentistry
– The Law Offices of Oliver & Cheek
– Lynaire Kennels
– Michaelé Rose Watson Studio
– Mitchell Hardware
– MJ's Raw Bar & Grill
– New Bern-Craven County Public Library
– North Carolina History Center
– ParkerLane Integrative Health
– Pollock-Best Funerals & Cremations
– Salon #9
– Sherwin Williams
– Snap Dragon Way Cool Toys
– Surf, Wind, and Fire
– Tryon Palace Waystation
– Carolina Colours
– The Emerald Country Club
The magazine hit the streets yesterday, so we're still delivering the first round. They will be available at numerous other locations this week.
Let us know if you want to be a distribution point or if you want extra copies to share with your friends.
We try our best to create the magazine as a reflection of living in New Bern Now! We strive to shine the spotlight on the people, places, and great things happening in our community!
We truly appreciate everyone who has sent us information and we want to expand to more pages. We can't do that without your help! Become a supporter, sponsor, or advertiser!
We welcome any suggestions, comments, or questions so we can improve our services!
If you have a business or non-profit that you'd like to see on the map, there's a small annual fee. We pride our efforts on providing affordable rate to help you promote your efforts. We have special packages that reach multiple media outlets include, an online news and source, podcast and radio show, print magazine, and on social media.
If you'd like to be part of our efforts, please let us know by calling 252-259-6853 or sending us an email.
We look forward to hearing from you! Thank you for visiting New Bern Now!
Wendy Card