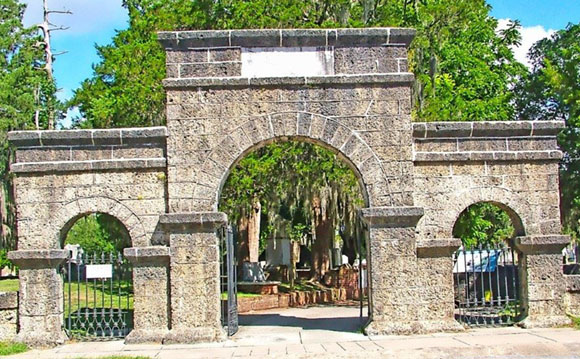 Historical Society Ghostwalk Sees You Through in the Evening
New Bern, NC – While the New Bern Historical Society is preparing for Ghostwalk evenings on Oct.24 – 26, the Earl of Craven Questers are offering special free daytime tours of Cedar Grove Cemetery on Fri & Sat, Oct 25 – 26 at 2pm. To take the tour, meet at the Weeping Arch cemetery main gate on Queen Street at 2pm on Friday, Oct. 25, or Saturday, Oct. 26. Tours will start from there. Reservations are not required, and the tour is free, although donations will be gratefully accepted.  Learn ghostly facts such as who brought the spider lily plant to New Bern and the United States?  Who wrote our state song?  Who fought a famous duel in 1802 — and why?
The Earl of Craven Questers are a nonprofit organization dedicated to restoring and preserving Cedar Grove Cemetery. Over the years the group has raised more than $50,000 for the ongoing work.
Cedar Grove Cemetery is one of the most popular "ghost sites" on the New Bern Historical Society's annual Ghostwalk. Each year many of the historic characters returning for the event appear there to the delight of the crowds of visitors. "The Questers daytime tours will give you the opportunity to learn even more and see Cedar Grove in a different light" offers New Bern Historical Society's Executive Director, Mickey Miller.
To take the Questers tour, simply meet at 2pm on Friday or Saturday at the Weeping Arch. For more information on Ghostwalk call 252-638-8558 or visit GhostwalkNewBern.com.
Submitted by: Kathy Morrison on behalf of Mickey Miller, New Bern Historical Society