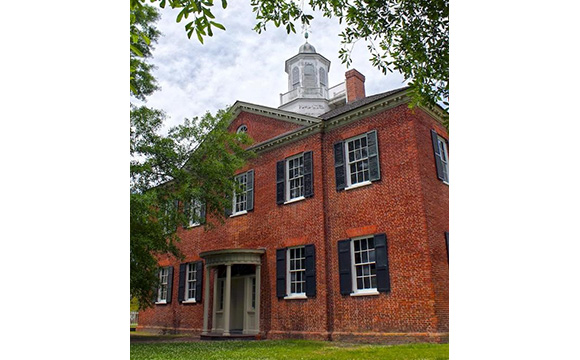 New Bern, NC – HistoriCorps, a national 501(c)(3) nonprofit dedicated to engaging volunteers on the rehabilitation of historic structures for public benefit, in collaboration with the Tryon Palace Foundation, return to New Bern for preservation of the New Bern Academy from October 20 – November 15, 2019. HistoriCorps is seeking volunteers to help restore this community resource through this project. All meals, tools, training, and campsite are provided free of charge. Registration is open at historicorps.org/new-bern-academy-nc-phase-ii.
In Spring 2019, volunteers with HistoriCorps repaired failing areas of the building's historic masonry. This October, HistoriCorps will partner with the Tryon Palace Foundation to enjoy a beautiful fall season in North Carolina while we work to preserve and rehabilitate New Bern Academy's portico, windows, and shutters.
New Bern Academy is a jewel that survived significant upheavals and developments in American history, and stands testament to the history and importance of public education in American culture. Most recently it stood through 2018 Hurricane Florence, which caused an estimated $100M in damage to the community overall. Now in its third century, the brick building needs attention so it can continue to serve the public as an historical interpretive site and museum.
About HistoriCorps: HistoriCorps, founded in 2009, is a 501(c)(3) nonprofit that provides volunteers of all skill levels with a hands-on experience preserving historic structures for public benefit across America. Volunteers work with HistoriCorps' seasoned professionals to learn preservation skills and put those skills to work saving historic places. HistoriCorps works to ensure America's cultural and historical resources will be enjoyed by generations to come.
Submitted by: Regina A. Ochoa, Director of Public Affairs, Tryon Palace