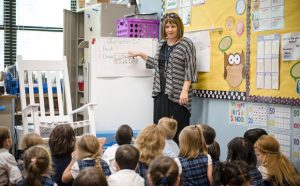 Local Students Model Virtue and Kindness Through Community Service
Kindergarteners at Saint Paul Catholic School in New Bern are taking the lead in hurricane relief efforts generated by the school this month. The initiative was started by the kindergarten class at Saint Paul to provide financial assistance to Catholic schools in the Bahamas who were affected by Hurricane Dorian. Their teacher shares that this is helping instill the values of virtue and kindness being taught in their religion course.
When asked about her vision for this project, kindergarten teacher Jennifer Walker stated: "It is very important that students understand that this is something that is extremely important to practice in our everyday lives and not just to talk about." The kindergarten class is currently learning The Golden Rule as well as beginning their study of community help. This comes at a perfect time to demonstrate to students how to put these concepts into action.
Following Hurricane Florence in September 2018, Saint Paul saw many schools from across the country give unsolicited donations which greatly benefited its families. Now, they are showing some of the school's youngest students that it's their turn to be generous to others. The kindergarten class is inviting families to send in donations in the form of cash and checks made payable to SPCS noting "Bahamas Relief" in the memo.
Saint Paul Catholic School is a ministry of Saint Paul Parish. It is dedicated to the spiritual, intellectual, physical, and social development of each student. Saint Paul strives to educate the whole child and welcomes students of all faiths.
For more information, please contact Principal Dave Kierski at 252-633-0100.
Submitted by: Bob Mackowski, SPCS Marketing Coordinator