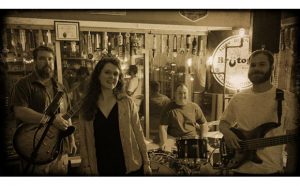 Caffeinated Soul Boogie will perform in the Fellowship Hall of Riverside United Methodist Church, Sunday afternoon September 15.
Here is how the band describes itself:
"Eclectic folk rock with a slight bit of funk jazz Americana blues –
Music with a touch of roots. Music with a backbone. Music with a passion. Originating in a coffee shop as a father/daughter duo, Darria Yeager and Derrick Moore began playing cafes, sidewalks, and open mics from New Bern to New Hampshire. Adding bassist and guitarist Daniel Baker and drummer Tanner Bright takes the sound to a whole new level and expands the range of this dynamic group.
"Our purpose is to share our love of live music, to create an atmosphere that encourages friendships and good times, and to encourage fellow musicians to do the same."
"We are a folk-rock band, an Indie rock band, an eclectic roots jazz funk blues band, and a band that drives each other to discover new sounds and styles of musical expression."
Riverside United Methodist Church is at 405 Avenue "A" in New Bern. The doors will open around 2:30, and the music starts at 3:00.
There is no admission charge for the concert, but donations to Riverside United Methodist Church will be accepted.
Submitted by: Simon Spalding