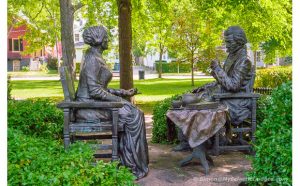 Rochester is the gateway to New York's Finger Lakes, but it is also a vibrant, dynamic destination in its own right. This friendly city, generously endowed with history, art, and endless fun, is an ideal location for an unforgettable vacation. Here is just a small sample of activities that are available.
An abundance of Museums:
Rochester is proud of her history and the people who made it. If you can't take in every museum and historical site, make sure you visit the following two.
The George Eastman Museum. is the world's oldest photography museum. The impressive collection includes over 400,000 photographs from 14,000 photographers dating back to photography's beginnings, 16,000 items of camera technology, 26,000 motion picture titles, as well as the first Kodak Camera built in 1888, the first Brownie camera, and Ansel Adams' first Brownie, given to him as a child.
Eastman revolutionized photography, making it accessible to everyone. His forward thinking, hard work and ingenuity made him a wealthy man, He was also an exceptionally generous philanthropist, giving much of his fortune away during his lifetime.
The National Susan B. Anthony Museum and House is located at 17 Madison Street. Your tour will begin in the front parlor where Susan was arrested for having the audacity to attempt to vote in the 1872 Presidential Election.
Susan had been a Quaker. Her first cause was temperance. She then became a passionate abolitionist. Frederick Douglass was a close friend of Susan's until his death in 1895. A captivating bronze sculpture of the two friends enjoying tea stands in a park a short distance from the house.
Fun for Kids of all ages:
The Strong National Museum of Play is a gigantic two-level playpen offering fun-on-steroids for children and children-at-heart. It houses the world's largest collection of toys, dolls, and games. The museum is a winning combination of history, education, and hands-on play.
Ride the 100-year-old carousel that had once traveled from town to town. Although it is a piece of play history, the original horses were intended to be ridden.
There are many fragile and valuable toys protected behind glass, but there is no shortage of activities to keep both little and big hands busy.
When you visit the National Toy Hall of Fame, you'll surely recognize some of your childhood favorites: Raggedy Ann and Andy, Barbie, Lego, Winnie the Poo, PlayDough, Tinker Toys, and teddy bear are a few of the familiar residents of this place of play honor.
An easy place to get stuck is the pinball exhibit. Beginning with a machine dating back to the 1930s, you can play your way through the history of pinball machines until you loose all sense of time.
Luscious Libations:
Rochester is endowed with more than 100 wineries, breweries and distilleries, all open and equipped to take care of your thirst. Here are just a few options to try:
Our visit to Rochester, New York was generously hosted by Visit Rochester and the Hyatt Regency Rochester. However, all opinions, as always, are entirely my own.
Penny Zibula is a freelance travel writer and blogger based in New Bern. Visit her blog at http://SixLegsWillTravel.com.
By Contributing Author, Penny Zibula