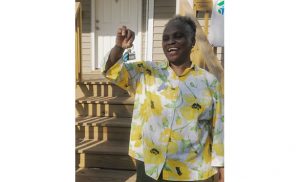 New Bern, NC – On Saturday, July 27th, 2019 Habitat for Humanity of Craven County celebrated the newest homeowner, Ms. Gale Headen, with a home dedication. A home dedication is a celebration of the journey to home-ownership and the beginning of a new chapter as the homeowner prepares to move into the home. The celebration kicked off at 5:30 PM and the crowd spilled into Howard Street.
Ms. Headen celebrated with her friends and family, Pastor Victor Haymon and congregation members, Harris Teeter coworkers, Habitat for Humanity staff and Board of Directors, fellow Habitat for Humanity homeowners, and neighbors. Ms. Luci Avery, Gale's Support Partner, shared that Ms. Headen is quite resourceful and was able to overcome obstacles and challenges to get where she is today. Ms. Headen wanted to thank everyone for attending the celebration and for supporting her during her journey to homeownership. It was clear that the celebration was filled with love and excitement, as Gale led attendees on a tour of the 2-bedroom, 2-bathroom home.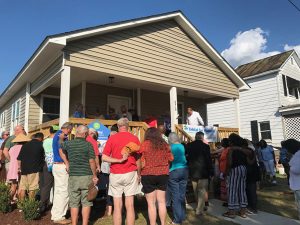 "We are all just so excited and proud to welcome Ms. Gale home. Gale has consistently remained committed and dedicated to earning her sweat equity hours and participating with homebuyer education" says Betsy McDonald, Homeowner Services Coordinator. The home was built over the course of seven months with the help of 223 volunteers from several different universities, Harris Teeter employees, the DieHard Crew, MCAS Cherry Point and the Single Marine Program and other community volunteers. We would like to extend a special thank you to Harris Teeter for providing the refreshments for the event.
Habitat for Humanity of Craven County has built affordable single-family homes in Craven County since 1989. Over the past 30 years, Habitat for Humanity of Craven County has assisted 67 individuals and families to achieve their dream of homeownership through our affordable housing program. These homes have allowed for children and adults to live in safe and stable environments right here in Craven County.
The homeownership program is made possible through generous contributions of volunteer time and labor, financial contributions, and through purchases made at the Habitat for Humanity of Craven County ReStore (located at 930 Pollock St in New Bern). If you are interested in volunteering with us, please contact the Volunteer Coordinator, Ms. Deedra Durocher at 252-633-9599.  If you are interested in applying for our homeownership program, please contact the Homeowner Services Coordinator Ms. Betsy McDonald at 252-633-9599.
Submitted by: Betsy McDonald, Homeowner Services Coordinator, Habitat for Humanity of Craven County