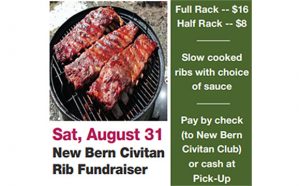 8:00 a.m. – 12:00 p.m.
at the Piggly Wiggly on Simmons Street
The New Bern Civitan Club is taking orders NOW for BBQ Ribs at its Labor Day Sale on Sat. Aug. 31.  See the attached ad for details on how you can order. Please order ahead of time as there are a limited number of ribs for sale and ALL previous sales have SOLD OUT. Don't get disappointed – order early.
These ribs are GREAT for Labor Day picnics and they freeze very well for future barbecues.
Reserve your ribs via email or calling Randy King at 252-670-9912.
Thank you for your support at our previous sales. They have all been successful and the profits go to support LOCAL charities.
Submitted by: Maureen Comer, New Bern Civitan Club