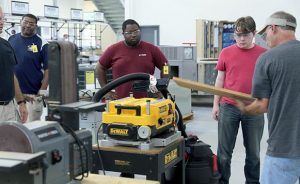 New Bern, NC – Craven Community College (Craven CC) is now offering several classes at Craven County's highly anticipated workforce development training facility, the Volt Center.
The college is currently offering training courses to provide students with the skills needed to enter the workforce with the knowledge and hands-on experience to prosper in their selected field.
The Volt Center programs are an extension of Craven CC's Workforce Development (WFD) program. Several programs are certified by the National Center for Construction and Education Research (NCCER). Current classes include Carpentry, Manufacturing Career Pathways, Forklift Operator, HVAC, CFC/EPA Certification, Electrical, Plumbing and Intro to Home Brewing. Upcoming classes include ServSafe, Environmental Safety, Welding, OSHA 10-Hour Construction, Hazmat and more.
The college's WFD program is currently partnering with B/S/H/ Home Appliances, Chatsworth, Hatteras/Cabo Yachts, LLC and Moen while providing specialized training programs specifically designed to train students and transition them directly into employment.
Conveniently located near downtown New Bern and Highway 70, the Volt Center was made possible by a collaboration with the City of New Bern, Golden Leaf Foundation, U.S. Economic Development Administration and Craven County.
About Craven Community College
Founded in i965, Craven Community College (Craven CC) is part of the North Carolina Community College System. With campuses in New Bern and Havelock-Cherry Point, Craven CC serves about 3,200 curriculum students and more than 10,000 continuing education students each year. The college offers a wide range of associate degree and certificate programs, as well as college transfer courses, career and occupational offerings, partnerships with four-year universities, specialized workforce training options, developmental studies and basic skills classes. The Lifetime Learning Center and Adult Enrichment Program offer lifelong learning opportunities. Craven Early College High School programs are available on both campuses. Craven CC is also home to Public Radio East, one of the few community colleges nationally with this distinction. For more information about the college, visit CravenCC.edu.
Submitted by: Craig Ramey, Director of Communications, Craven Community College