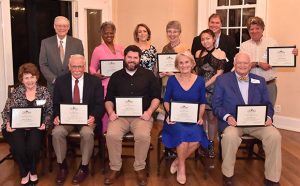 NEW BERN, NC – The strength of any non-profit organization comes from the time and commitment of its volunteers. The New Bern Historical Society celebrated and recognized some of its legions of volunteers recently at their Annual Meeting and Awards Dinner held at the New Bern Golf and Country Club.
Board of Directors President Joe Hunt and Executive Director Mickey Miller presented the 2019 Awards honoring many of the Society's hardest working volunteers. The Newcomers Award recipients Karen Bixler and Ted Fridholm were recognized, with Karen working many hours in the office as administrative aid as well as serving on many committees, and Ted using his carpentry skills on the Stewardship Team. The Education Award went to Carol Becton who has shared her talents with both the Historical Society and the community.  The Battlefield Award was given to Frank Bartholomew and Gene Lock, who although they are fairly new to the Battlefield Guides group, have joined with enthusiasm working to help clean up the Battlefield Park in the wake of Florence. The Ambassadorship Award went to Matt Arthur and Alma Gibbons for their ongoing work writing entertaining and amusing Ghostwalk scripts. The Extended Service Award recipient John Robert Mattox has given 10 years of service on the Board of Directors, serving as Treasurer and bringing many upgrades to the Historical Society's financial reporting. Mickey presented The Executive Director's Award to Jane Maulucci who has written, directed and produced the ongoing story of the Dowd Family during Ghostwalk. Their exploits in the Veri-Good Bakery through time have entertained us all. She also served as the director for the Extraordinary Women presentation. Joe Hunt announced the President's Award given to Cathy O'Brien and Linda Cummings who have served for many years on several committees and projects including Ghostwalk, Publicity, Concerts, and most recently serving as Volunteer Coordinators for the Heritage Homes Tour. Ken McCotter accepted The Lifetime of Service Award as the Society acknowledged his 23 years of service including many as a member of the Board of Directors and multiple terms as President.
The Harriet Marks Scholarship recipient, Kimberly Thi Tran was also announced at the dinner.  Kimberly is the Valedictorian of her class at New Bern High School. She will receive a four-year scholarship as the Marks Scholar and is planning to attend the University of North Carolina, Chapel Hill.
The mission of the New Bern Historical Society is to celebrate and promote New Bern and its heritage through events and education. Offices are located in the historic Attmore Oliver House at 511 Broad Street in New Bern.
For more information, call 252-638-8558 or go NewBernHistorical.org or Facebook.com/NewBernHistoricalSociety.
Submitted by: Kathy Morrison, Public Relations, New Bern Historical Society