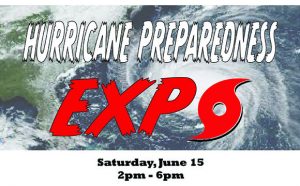 Hosted by the City of New Bern & WITN 7
The Atlantic hurricane season begins June 1ST and the City of New Bern is encouraging the community to get ready. The City is partnering with WITN 7 to host its first ever Hurricane Preparedness Expo on Saturday, June 15th from 2 p.m. – 6 p.m. at West New Bern Recreation Center, 1225 Pinetree Drive.  Residents, businesses, and the public are welcome to attend.
The event will feature city staff and subject matter experts who will share information to help residents and businesses get ready in the event of a disaster. Vehicles and equipment will be on display from the City's Public Works Department, New Bern Fire-Rescue, New Bern Police Department, and the Department of Public Utilities.  Staff will be available to answer questions and provide information on city services.
Emergency Management experts, the National Weather Service, WITN 7 Chief Meteorologist Matt Engelbrecht and first responders will make presentations on disaster preparedness, lessons learned from Florence, and the outlook for storm activity for the 2019 season.  The American Red Cross, Salvation Army, United Way and church organizations involved in disaster relief and recovery will be there, as well as local hardware, home improvement, and other businesses that can help the community prepare.  Businesses and organizations who wish to secure a booth at the event can fill out the attached form or visit our website. This is an information only event.  No sales will be permitted. 
Learn more about protecting your home, family, and property, how to put together a disaster survival kit, and what to do before, during and after a storm strikes at the Hurricane Preparedness Expo, hosted by the City of New Bern and WITN 7, eastern North Carolina's breaking news and weather authority. The expo is scheduled for Saturday, June 15th from 2 p.m. – 6 p.m. at West New Bern Recreation Center, 1225 Pinetree Drive.
Submitted by: Colleen Roberts, Public Information Officer, City of New Bern