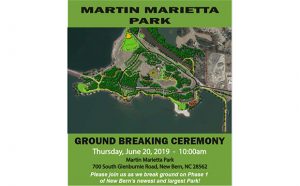 New Bern, NC – New Bern Parks and Recreation invites everyone to attend the Ground Breaking Ceremony for phase 1 of Martin Marietta Park on Thursday, June 20th at 10 a.m. The ceremony will take place at the park, located at 700 South Glenburnie Road.
"We are so excited to get started on this project. Once this park is completed, it will be one of the many crown jewels of New Bern." Said Foster Hughes, Director of Parks and Recreation. "Phase 1 will include restrooms, trails, boat launches (for non-motorized boats), observation platforms, picnic shelters, fishing piers, a playground and general infrastructure upgrades. This park would not be possible without the generous support of Martin Marietta."
Planning for Martin Marietta Park started in January of 2018 with several public input meetings and surveys to determine what the public wanted to see in New Bern's newest and largest park. Future phases for the park include ziplines, adventure ropes course, bike pump course, skate park, dog park, meeting space, Amphitheatre, and more!
For phase 1 of the Park project, the City of New Bern received a $475,000 grant from the North Carolina Parks and Recreation Trust Fund (PARTF) and a $97,500 grant from the NC Division of Coastal Management (CAMA).
For additional information on Martin Marietta Park, please call 252-639-2901 or visit our Parks and Recreation page at NewBernNC.gov. This event is presented by New Bern Parks and Recreation.
Foster Hughes, Director of Parks & Recreation, City of New Bern