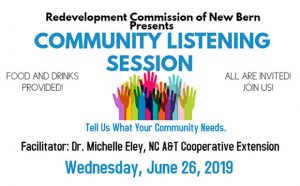 Join the New Bern Redevelopment Commission for old and new conversations after Hurricane Florence about your community and its needs, strengths, challenges, and opportunities.
The listening session will be held on o Wednesday, June 26, 2019 at 6 p.m. in the Omega Center located at 800 Cedar St. in New Bern.
Facilitator: Dr. Michelle Eley, NC A & T Cooperative Extension
All are invited to join us!
Food and Drinks will be provided.
For more information, contact Jeff Ruggieri, Development Services at 252-639-7587.
We are excited to hear from you!
Submitted by: Tharesa Lee