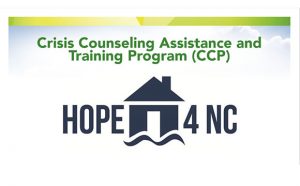 Please call 1-855-587-3463 for assistance. Por favor llame al 1-855-587-3463 si necesita asistencia.
The mission of the Crisis Counseling Assistance and Training Program (CCP) is to assist individuals and communities in recovering from the challenging effects of natural and human-caused disasters through the provision of community-based outreach and psychoeducational services.
Legal Aid of North Carolina: 866-219-5262 Disaster Distress Talkline: 800-985-5990 (voice, 711 or VRS) or text TalkWithUs to 66746 For Spanish, text Hablanos to 66746 Disaster Unemployment Assistance: 866-795-8877
Disaster Fraud Hotline: 866-720-5721 (calls can be made anonymously and confidentially)
In collaboration with Trillium Health Resources is a Local Management Entity/Managed Care Organization (LME/MCO). We are designated by the NC Department of Health & Human Services to oversee state and federally funded services for 26 counties in eastern North Carolina.
Trillium is responsible for providing access to and oversight of services for individuals who receive Medicaid or state funding for their care. Trillium complies with applicable Federal civil rights laws and does not discriminate on the basis of race, color, national origin, age, disability, or sex. TrilliumHealthResources.org.
Submitted by: Landa Gaskins, Trillium Health Resources