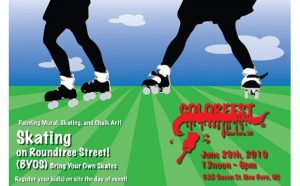 Help paint murals to beautify the community of New Bern! Come out and be part of history!
Join Colorfest Inc. on Saturday, June 29, 2019 from noon – 6 p.m. at 928 Queen and Roundtree Sts.
All kids are welcome!
Mural painting, games, chalk art, skating, K9 Demonstration by the New Bern Police Department, music and fun!
Please dress appropriately for the weather it will be in the 90s Saturday! We will have water and liquids for the kids and tents to cool off under!
If you registered before registration closed online you will receive your shirt once checked in.
Food will be provided from Colorfest Inc., Pizza Hut and Tiny Tornado food truck!
If you are interested in donating snacks or water please contact us at colorfestinnewbern@gmail.com by Friday!
Look forward to seeing everyone!
Submitted by: Art by Benetez, Colorfest, Inc.