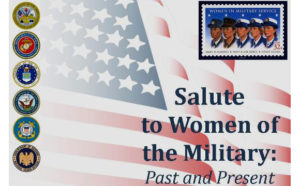 NEW BERN, NC – Promise Place (formerly Craven County Council on Women) is partnering with Women Marines Association Chapter 2 for the 2019 Salute to Women of the Military: Her past and our present! The Salute consist of a luncheon to honor active duty and retired women of all branches of the service with Guest Speaker: Ms. Gail Horn.
This year's Salute will also award the "2019 Woman Veteran of the Year". The event will be held Thursday, 20 June 2019, 11:30 a.m. – 1:30 p.m. at The Flame Banquet Center, 2301 Neuse Blvd., New Bern. Sign in will begin at 11:15 a.m. with lunch at noon and the various program events until 1:30 p.m.
There will also be a silent auction so bring cash!
We hope that you will honor the service of women veterans by attending or purchasing a table for active duty women to attend, which will promote your organizations/business logo and provide lunch for 8. Individual tickets are $20 each and the cost per table is $200 with a donation receipt for $40. They can be purchased at: PromisePlaceNewBern.org. All  sponsorships and donations will be acknowledged in the program distributed at the event.
Please respond by June 6, 2019 to reserve your table and promote your logo.
Thanks for all you do for our veterans! Hope to see you there!
Promise Place is a nonprofit agency (501-C3) serving victims of sexual assault in Craven, Pamlico and Jones Counties.
Submitted by: Lovay Wallace-Singleton, Veterans Employment Base Camp and Organic Garden