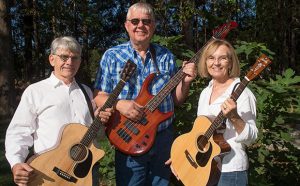 The Riverside Players present a free concert at Riverside United Methodist Church on Sunday afternoon, June 2.
The Sunday afternoon concert will be in the Fellowship Hall of  Riverside United Methodist Church, in New Bern.
Here is how the group describes itself:
"The Riverside Players' spectrum of music pleases a wide range of listeners with Country, Bluegrass, and Appalachian to Celtic, Traditional, Cajun, and Blues.  The group consists of Roger Noyes, B.J. Tapley, Cindy Polo, and Tim Wiscarva with instrumentation including guitar, the unique and rarely seen hammered dulcimer, fiddle, bass, and lots of singing!"
Riverside United Methodist Church is at 405 Avenue "A" in New Bern.
The doors will open around 2:30 p.m., and the music starts at 3:00 p.m..
There is no admission charge for the concert, but donations to Riverside United Methodist Church will be accepted.
This is sure to be a concert to remember!
For information, call 252-631-4117.
Submitted by: Simon Spalding