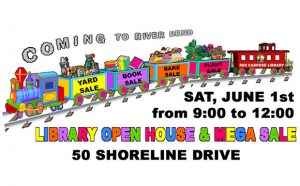 The Red Caboose Library will hold an "Open House" on Saturday June 1, 2019 from 9:00 am to 12:00 pm to celebrate our new home at 50 Shoreline Drive in River Bend. A table will be staffed to provide information about the library, its long and colorful history in River Bend and the exciting plans for the future. The library will also be open for browsing and borrowing. Self-supported through community donations, the library will conduct a fund raiser yard sale, book sale and T-shirt sale. There you could find that item you have been looking for at bargain prices; buy that book or books you have been wanting to read and, in spite of all the jokes, everybody can use another T-shirt, particularly if it benefits our local library. If you get hungry while browsing, our friends, the River Bend Garden Club, will join us with a bake sale. And surely you can always use another plant for your garden from their plant sale.
The Red Caboose Library and the River Bend Garden Club look forward to seeing you on June 1 for this fun and fund-raising event. All proceeds will benefit these two outstanding organizations. In case of inclement weather, the rain date is Sunday, June 2nd from Noon to 3 pm.
The Red Caboose Library, staffed solely by community volunteers, is open seven days a week: Sunday from 2pm to 4 pm, Monday through Saturday from 10 am to Noon, with extended hours on Wednesday until 4 pm.
For more information or to volunteer, contact Linda Klopf at 252-638-1124. Like, Follow and Share the Red Caboose Library on Facebook and find us on Google Maps.
Submitted by: Constance Casey