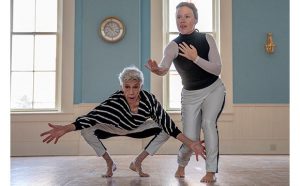 Stanly Hall, New Bern, Thursday, May 9, 7:30 pm
Old Theater in Oriental, May 11, 7:30 pm
Wendy Osserman and Danielle Madrid are modern dancers and choreographers living in Oriental and New Bern. They will perform Mother Land, a suite of new dances Thursday, May 9, 7:30 PM at Stanly Hall Ballroom, 249 Craven Street, New Bern. Tickets: $15 at the door. The program features choreography to Sephardic (Spanish Jewish) music and a duet in which the performers use words and movement to muse on motherhood. The performance lasts approximately one hour and is appropriate for all ages.
"Bountiful work, richly textured with visual, aural, and physical collaborations." – The Dance Enthusiast
The same program will also be presented by the Old Theater in Oriental, 609 Broad Street. May 11th, 7:30 PM, $15 at the door and OldTheater.org
Wendy and Danielle have had similar dance training in ballet, modern as well as in other movement techniques. The two met last summer at the Bank of the Arts in New Bern at the Fusion Art exhibit. The juried art work was created in response to poems including two by Wendy which she and Danielle were invited to embody at BOA for ArtWalk. After that performance they decided to continue developing new work together.
Their Jewish background led them to choose Sephardic music to accompany most of the pieces on the program. When the Iberian Peninsula was conquered by Muslim armies in the 8th century, Christians and especially Jews began assimilating many aspects of Arabic culture. Arabs in their turn assimilated the best aspects of the cultures they occupied, and a "Golden Age" took place until 1492 when the Sephardim were expelled from Spain by the Roman Catholic monarchs, Ferdinand and Isabella.
DANIELLE MADRID (MFA in Dance Performance and Choreography, Temple University) has been a teacher, choreographer, performer and arts administrator in the dance field for over fifteen years. Her interest in merging dance with community art was influenced by her time in Washington, DC where she worked, taught and performed at the preeminent dance venue, Dance Place. She was a member of Carla & Company, the Choreographers Collaboration Project and the Bellingham Repertory Dance Company of Bellingham, Washington and performed at venues such as The Kennedy Center and Reston Center Stage. A certified yoga instructor, she has taught movement throughout Washington, DC, Philadelphia and Washington state. Her works have been featured at the New Bern Bank of the Arts, The Firehouse Performing Arts Center of Bellingham, WA, Temple University, The Philadelphia Fringe Festival, Dance Place, The Athenaeum and Penn State University.  Danielle teaches yoga to Marines and their spouses at Marine Corps Air Station Cherry Point and instructs adult and youth yoga classes at The Twin Rivers YMCA.
"Wendy Osserman- wiry, heartful- is a direct link to great masters of American dance history." – Eva Yaa Asantewaa
WENDY OSSERMAN (BA: Theater, Smith College, MA: Gallatin School, NYU) studied many dance forms including modern dance with Martha Graham, Hanya Holm, Daniel Nagrin and José Limon. Wendy performed as a soloist with Valerie Bettis, Alice Condodina, Kei Takei and the Hellenic Chorodrama in Greece. Theater for the New City presented Quick Time, Wendy Osserman Dance Company's 40th Anniversary season, in 2016 as well as many other evening-length works including Undermine, 2018. WODC has appeared in most NYC dance venues; highlights include commissions to choreograph Scriabin's 5th Symphony at Baryshnikov Arts Center and ten Annual John Lennon Birthday Tributes performed throughout the city. Wendy spends most of the year in Oriental where she teaches movement for people with Parkinson's and is a member of Poets of Pamlico.  She has created original musical theater pieces such as Warrior Women presented in partnership with Lifetime Learning Center, Craven Community College and Who Do We Think We Are? at the Old Theater & Orringer Auditorium. She has also choreographed at New Bern's Civic Theater and at Pamlico Community College.
Submitted by: Wendy Osserman