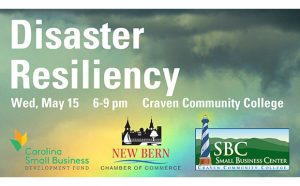 Wednesday, May 15, 6 – 9 p.m.
Bosch Advanced Manufacturing Center (Bosch AMC) Room 102
Craven Community College (Craven CC), 800 College Court, New Bern
This event is for future and existing small business owners who are preparing for hurricane season. Small business owners needing Hurricane Florence recovery assistance are also encouraged to attend.
According to FEMA, roughly 40 to 60 percent of small businesses never reopen their doors following a disaster. The "Building Resilience Capacity for Natural Disasters" workshop will help business owners learn ways to prepare and respond to a potential disaster. Presented by the Small Business Center of Craven Community College, New Bern Area Chamber of Commerce, and Carolina Small Business Development Fund.
Whether a retail, office or home office location, small business operators will learn methods and resources to mitigate potential risks associated with natural disasters, and be prepared for non-natural business interruption as well. The workshop panelists include representatives from Carolina Small Business Development Fund, U.S. Small Business Administration, Choice Flood Insurance and IT Works Wilmington. Additional support resources will be present and/or will provide information.
Online Registration is Requested: www.cravencc.edu/sbc (or direct link > http://bit.ly/sbcresilience051519)
Free event. Open to public.
For more information, call 252-638-1166.
Submitted by: Deborah Kania, Director, Small Business Center, Craven Community College