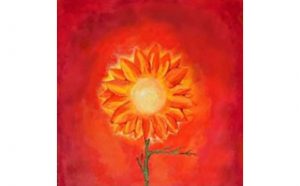 Director's Gallery to host exhibition in conjunction with New Bern Walks a Mile
May 1st – May 31st, 2019
New Bern, NC – Craven Arts Council and Gallery is proud to present "Paint a Mile" an exhibition in conjunction with Sexual Assault Awareness Month and the New Bern "Walk A Mile" event in support of sexual assault survivors. Craven Arts Council will host an opening reception for the exhibition during the downtown New Bern Artwalk, May 10th, from 5 p.m. – 8 p.m.
More than 321,000 Americans are the victims of sexual assault in America every year, with the effects far reaching throughout the victim's lifetimes. Victims of sexual assault often do not report the crime for a variety of reasons, including fear of retaliation, home or family situations, and distrust or skepticism in the police. Safe spaces, such as Promise Place and the Coastal Women's Shelter, provide victims resources and a community where they can speak, heal, and grow from these traumatic crimes. The goal of the "Paint a Mile" exhibition and "Walk a Mile" event are to raise awareness around these issues, and support the organizations actively working to help victims. Artists Brian Cardoza, Dara Morgan, Se'rah Cheatham, Andrew Craddock, and more have contributed original works on the topic of sexual assault and the experience of healing from it. Proceeds from the sale of work will go to benefit Promise Place and Coastal Women's Shelter. Visitors can also compose their own "6 word stories" to add to the exhibition addressing the topics or paintings and post them to the wall under the works.
Admission to all galleries at Bank of the Arts is free and open to the public, Tuesday thru Saturday, from 10am to 5pm.
For more information please contact Jonathan Burger, Marketing and Gallery Director, Craven Arts Council & Gallery, Inc. at the Bank of the Arts, 317 Middle St., New Bern, 252-638-2577
Submitted by: Jonathan Burger