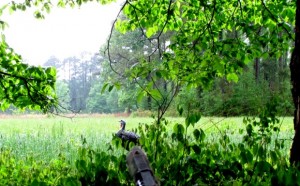 Wild Turkey Hunting Season in New Bern
If you're an outdoor enthusiast, but you don't hunt, we want you to be aware that Wild Turkey Hunting Season runs through May 11 in North Carolina.
We hope everyone enjoys and explores the great outdoors, especially the Croatan National Forest! We also want everyone to stay safe during turkey hunting season.
If you're a nature lover venturing into the Croatan and/or other public hunting lands, here's some things to consider:
– Wear bright clothing and avoid turkey colors (red, white, blue, or black) to make sure that you're not accidentally identified as a turkey.
– If you hear shooting nearby, blow a whistle or shout to let the hunter(s) know that you're in the area.
Whether you're a hiker or hunter:
– Use a compass as a backup as I've been in dense areas of the Croatan where my GPS didn't receive a signal (and it wasn't a cheap GPS).
– Park on the side of the road where you enter the woods in case you get lost so the Ranger will know where to look for you!
– If you encounter a bear, talk in a loud, but calm voice and walk away backwards with your arms in the air to make you appear larger. The black bear is hunted in North Carolina so they're normally afraid of people. I've spent a couple hundred days (accumulatively) in the Croatan and have only had a handful of encounters, mostly in a tent at night. So please be aware, but not afraid.
If you're a turkey hunter new to the area or haven't been out this season, locally, the turkeys are entering the late season gobbling phase. The majority of breeding is or has taken place, A few gobblers may still be "henned up", but most of the hens are on the nest. That doesn't mean that you shouldn't try. If you hear a nearby hen, try to get her fired up and call her in…the Tom may be soon to follow. If he doesn't, don't call as often by using soft clucks and purrs and make rustling sounds by scratching the leaves.
Whatever your interested are, we hope this information has been helpful!
Please let me know if you have any comments, suggestions, or questions by calling 252-259-6853 or sending an email.
Wendy Card