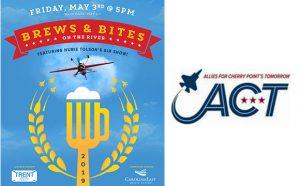 Allies for Cherry Point's Tomorrow (ACT) is thrilled to announce it will host the 4th Annual Brews & Bites on Friday, May 3 from 5:00 p.m. until 9:00 p.m. The event will be located on the Neuse River, at the end of Broad Street, and will feature the return of New Bern's own internationally-acclaimed stunt pilot, Hubie Tolson.
Attendees will enjoy a beautiful evening on the river's edge sampling wine, unique local craft brews from Brutopia and Shortway Brewing and food from The Tiny Tornado and Dank Burrito. As an added bonus this year, guests will experience great live music from Glorianna's Tom Gossin and a thrilling air show performance by Hubie Tolson.
Brews & Bites was created as a community event to raise awareness for ACT's efforts to protect and grow MCAS Cherry Point—our area's greatest economic engine and the largest employer in Craven and Carteret Counties. All proceeds will benefit continuing efforts to cement the successful future of the base, which includes the next-generation F-35B Joint Strike Fighter.
ACT President and Havelock Mayor, Will Lewis, stated, "We were extremely pleased with the success of last year's event and the support shown for Cherry Point. This year, especially with a return performance from Hubie Tolson, we feel we can reach even more people in our community and spread the word about the vital impact the base has on our economy."
Tickets for the event are $35 per person. Food is additional. To purchase tickets online, go to AlliesforCherryPoint.com.
About Allies for Cherry Point's Tomorrow:
Allies for Cherry Point's Tomorrow (ACT) advocates for the existence and success of Marine Corps Air Station Cherry Point, Fleet Readiness Center East and its civilian enterprises. Board members include leaders from Craven, Carteret, Pamlico, and Jones Counties who work closely with Congressional and legislative delegations to push for laws and budget appropriations that will help preserve and grow MCAS Cherry Point—a base crucial to the success of the U.S. military and the economy of the region. For more information, call (252) 631-5021 or visit www.alliesforcherrypoint.com.
Submitted by: Shannon LuQuire, Trade Ideas, Inc.