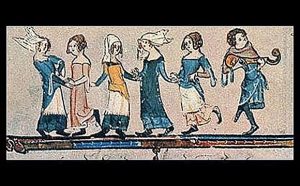 Come relive the days when knighthood was in flower, with dances from long ago!  Try out country dances from the courts and villages of Medieval and Renaissance Europe!
Instruction is provided – you don't need to bring a partner, and no prior experience is necessary.
Medieval attire is optional; comfortable clothes, low flat shoes, and a smile, are all you really need to revel in fine style.
Admission is free – donations to the church will be accepted.
The event will be held on Saturday, April 27 from 3 – 4:30 p.m. at Riverside United Methodist Church, 405 Avenue A, New Bern in the Fellowship Hall.
For more information, call 252-631-4117.
Submitted by: Simon Spalding