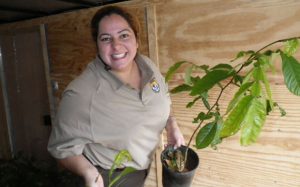 The Coastal Women's Forum (CWF) April luncheon speaker will be Lilibeth Serrano Vélez, Public Affairs Specialist with the U.S. Fish and Wildlife Service (USFWS).  The CWF luncheon will be held April 17 at the New Bern Golf and Country Club starting at 11:30 until 1 p.m. for CWF members, visitors, and guests.
Ms. Serrano Vélez will share information about the USFWS Coastal Program in North Carolina that has restored, protected or enhanced more than 36,000 acres of habitat critical for rare plants and animals. She serves in the Ecological Services Division from the Raleigh Field Office.
Since 1988, CWF's mission is networking, education, and encouragement for women in eastern North Carolina. The group of almost 200 members is comprised of business owners, people in the for-profit and non-profit sectors, and retirees all who are willing to support their CWF sisters in achieving their personal and professional goals.
Tickets for the luncheon are $15 for members and $20 for non-members. To register for the luncheon and learn more about the Coastal Women's Forum to go to CoastalWomensForum.com. New members are always welcome. CWF is saving a seat for you.
Submitted by: Jane Maulucci, The Reactive Voice