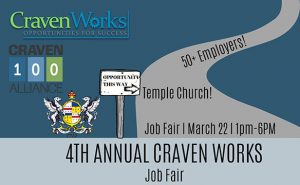 Mark your calendar for Friday, March 22, 2019 from 1 – 6 p.m. and join us at Temple Church, where you will find employers of all shapes and sizes looking for YOU – candidates ready to work!
This is an employment resources and jobs event where we will have all areas of industry – Health Care, Manufacturing, Education, Retail, Government, and the list goes on. We will also have partnering agencies present to assist you in taking that next step for success: Update your resume Create a resume Sign up for classes Interview for a job Contact our office if you have any questions at 252-633-5300.
Presented by Craven 100 Alliance & Craven County Dept. of Economic Development.
Submitted by: Kait Fletcher, Sales Service Assistant, New Bern-Craven County Convention Center