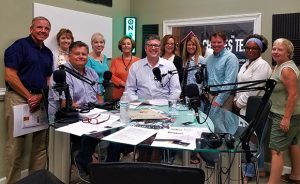 We've recently received an increase in requests from people wanting to know how they can promote their events and/or share information on NewBernNow.com, in New Bern's Ledger Magazine, and on New Bern and Beyond Podcast.
Our goal is to provide information that educates, enriches, entertains and/or enlightens our audience. If you're interested, you can:
You can email us an article (up to 550 words) with the details and an image (photo or logo) and I'll share it on NewBernNow.com's homepage along with others to include our daily email and social media platforms. It will also be shared on our community calendar. If you just want it to be listed on our community calendar, that works too.
Some people consider workshops/classes to be events. If that's the case, feel free to send us an article each month and they will be published on our website, daily email, and social media platforms, but they normally don't go on the calendar.
You can become part of our team as a Contributing Author by writing an article that engages, entertains, enlightens, and/or educates readers. Your bio and photo will be added to our Team's webpage. There are no deadlines, but we ask that you commit to writing once a month.
In the past, we haven't allowed native writing/advertorials. We've changed our policy, so if you're interested, there is a fee for these articles and they will be identified as advertorials.
You can join us during our podcast for a 3 – 5 minute interview about your non-profit or business. Please know that space is limited so give us a call at 252-259-6853 to get on the schedule.
We also have numerous advertising options that will set your business or non-profit apart from others!
We look forward to hearing from you!
Please let us know if you have any questions.
Tell us what you think sending us an email. Sign up for the latest updates by submitting your email address in the right margin under "Subscribe" on New Bern Now's website.
Wendy Card