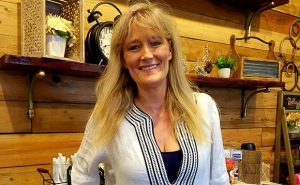 "There are far better things ahead than any we leave behind." – CS Lewis
We hope your New Year is filled with happiness, good health, and prosperity!
We would like to thank our advertisers for believing in our efforts to promote the people, places, and great things happening in the greater New Bern area. We truly appreciate your support and hope that we've done our best in promoting you!
We're kicking off 2019 with a special announcement. Tracey Stones has officially joined our Team as the Marketing and Sales Director for New Bern Now. This is big news as I've been "winging it" for the last 10 years!
This may not sound like a big deal, but it is to me. When I started New Bern Now in 2009, my goal was to promote local non-profits, businesses, and everyone trying to make ends meet as the great recession of 2008 had a major impact on our community. I wanted to help, and my passion has only grown stronger.
My goal has always been to be able to generate enough money to cover the costs of printing the Ledger magazine and business expenses. I finally met that goal in 2017. My next goal was to create enough money to pay an independent contractor or hire an employee to help take on some of the workload.
Please know that I'm not complaining as I love what I do! It's just hard for one person to publish articles on NewBernNow.com everyday, share them and engage on social media, record and edit the podcast every other weekend, and publish the quarterly Ledger magazine, bookkeeping, etc.
So, I'm very excited as Tracey Stones will be taking care of the marketing and sales for New Bern Now's website, magazine, and podcast. She is experienced in marketing and promotions, sales, and is very passionate about our community!
Tracey is the owner of the North Carolina Music Zone (NCMZ.live) and Tracey Stones Productions. She founded NCMZ.live in 2014 and has been covering our local and state music scene ever since! She's believes that "if someone puts the effort into promoting local music, more will come". She's followed her dream in promoting music for over 20 years and she's been on our team since the summer as the Entertainment Writer and podcast contributor.
Both Tracey and I moved here 14 years ago but hadn't met until 2018. We've traveled parallel paths as we both strive to fill a need in our community through promoting it!
You can help our efforts by joining us in shining the spotlight on key issues, volunteers, events, and all the terrific things happening in the greater New Bern area.
We're looking forward to 2019 and New Bern coming back stronger together!
Please let me know if you have any questions via email or call at 252-259-6853 or send Tracey an email or call 318-789-6929. Stay up to date on the latest happening by submitting your email address under "Subscribe" in the right margin on New Bern Now's website.
Wendy Card