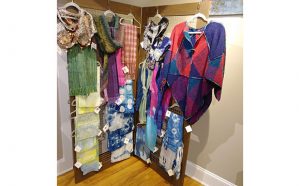 The new year has passed and all the holiday business. Stop by the Community Artists Gallery and Studios at 309 Middle Street right near the Bank on the Arts. Come and see a selection of woven scarfs that have been made on a loom. We have hand dyed silk scarves using a variety of dying methods creating different effects. There are also knitted scarfs. The artist uses a variety of stitches and yarns to create a true work of wearable art.
One of our new artists creates kiln fired glass pieces. Each unique. Some are practical, and some are just beautiful.
The gallery contains works of 28 local artists. Art walk is coming January 14th. Stop by and look at the variety of paintings. There are oils, watercolors, pastels and acrylics. There are photos, pottery, stained glass, baskets and wood work. Jewelry is very popular and there are a few artists with different styles.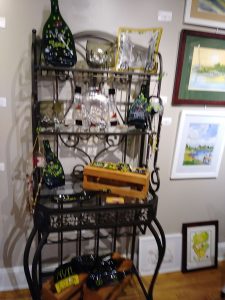 One nice gift idea are butter knives and spoons that are stamped with fun sayings. Great gifts.
Come and visit our store and see all the things available. We have new hours: Tuesday to Saturday from 10 a.m. to 5 p.m.
Coming soon are classes to enrich our community in the arts.
Submitted by: Diane McKillop, Community Artists Gallery and Studios