Live Music Options
At Press time here is what we found for the week ahead. Always call the venue to confirm
Thursday: January 24, 2019
City Stage New Bern,901 B Pollock St. (252) 631-5122; A M Serenades Alisa E. Mike, Vocalist offers Evening Serenade 7-9 pm. Free music
The Brown Pelican, 411 Broad St., (252) 631-5008 Open Mic. Sign up starts at 7 pm Music starts at 8 pm. Pack up the gear bag and come jam!!!
Friday, January 25, 2019
BrÜtopia, 1201 Highway 70 E, New Bern, NC. (252) 631-5142 welcomes the amazing talent of the local stringer and rocker, Marron Chaplin. The rocker offers free music 7-10 pm
The Brown Pelican, 411 Broad St., (252) 631-5008  offers the sounds of Now or Never a trio of singers and stringers from the Crystal Coast. Free Music! 7-10 pm
Blackbeard's Triple Play Restaurant 415 S Front St., (252) 635-0322 It's a fun night of Music for the People with Joe Brown & The Band  Free Music!  7:30 – 11 pm.
The Bruin Craft Beer and Wine
 224 Middle St., (252) 675-7486 Original artist from Pink Hill, 
Adam Hill
 will offer the tunes. Free Music 8-10:30 pm.
Saturday, January 25, 2019
BrÜtopia, 1201 Highway 70 E, New Bern, NC. (252) 631-5142.  Free Music 7-10 pm by Rick Huff.
The Bruin Craft Beer and Wine: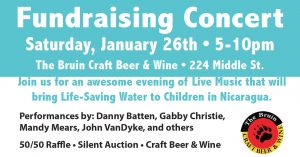 The Brown Pelican, 411 Broad St., (252) 631-5008  Third Degree Bern will serve up the classic rock and blues sounds. Free Music! 8-11 pm
Blackbeard's Triple Play Restaurant 415 S Front St., (252) 635-0322 The BiPolar Express will rock the deck from 7:30 pm
Broad Street Open Mic takes place at Broad St Christian Church. All are welcome to perform. Sign up starts at 6 pm Music plays 6:30-9 pm
Craven Arts Council / Bank of the Arts offers a night of Randy Newman music performed by Heather Pierson Trio.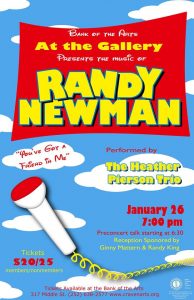 Most well known for his movie score compositions, Randy Newman's career has spanned more than 50 years. There will be a pre-concert discussion of the composer's life starting at 6:30. The Heather Pierson Trio burst onto the national folk scene in 2015 with their debut EP, "Still She Will Fly." It features the multi‐genre songwriting, instrumental arrangements and stirring three-part vocal harmonies. The title track was the #2 single on Folk radio in 2015. Returning for their fourth consecutive year, the Heather Pierson Trios performance promises to be a hit. At the Gallery tickets are $20 for members and $25 for nonmembers, and may be purchased in person at Bank of the Arts; over the phone at (252) 638-2577; or online at Cravenarts.org.

Monday, January 28, 2019
Annabelles of New Bern 3100 MLK Blvd., (252) 633-6401 offers the dinner accompaniment of Lewis & Clark from 6-9 pm.
The Brown Pelican, 411 Broad St., (252) 631-5008 Welcomes the week with a blues Jam at the Dirty Bird. All are welcome. Jam goes down from 7-9 pm hosted by Big Jim Kohler Band
Wednesday, January 30, 2019
City Stage New Bern,
 901 B Pollock St. (252) 631-5122
Big Jim Kohler Band and Jam
. Live music 7-9 pm. Free Music. Donations for the host band encouraged.

Karaoke/Trivia/Other Games:
Thursday, January 24, 2019: 
BrÜtopia
 1201 Highway 70 E  (252) 631-5142 
30 Seconds Rocks 
6:30 pm
Saturday, January 26, 2019: 
Sunday, January 27, 2019 
The Asian Games Club of New Bern gathers once monthly at Bears Lair located in The Berne Square Plaza. Games begin this Sunday afternoon at 1 pm. One can learn to play Chineses Chess, Japanese Chess, and other East Asian games. No dues for this club, just come out and play.
Wednesday, January 30, 2019
Our Stages (Theater)
New Bern Civic Theatre, 414 Pollock St., (252) 633-0567. The last shows for Charlie Brown are Friday and Saturday nights at 7:30 p.m.
RiverTowne Players Masonic Theater 514 Hancock St., (252) 633-3318 The Diary of Anne Frank continues this weekend with shows Friday and Saturday nights and a final show on Sunday at 3 pm http://www.rivertowneplayers.org
At The Palace
Friday, January 25, 2019:

Shuck your winter shell as Tryon Palace's WinterFeast oyster roast returns to the North Carolina History Center in 2019!

Dive into a table full of fresh, local, steamed oysters, sample classic winter favorites like chowders, shrimp and grits, and jambalaya prepared by your favorite local chefs, and wash it down with a selection of delicious brews while enjoying a night out with friends and neighbors.

This indoor/outdoor event includes a cash bar and will be held at the North Carolina History Center, 529 South Front St., New Bern, NC. Come ready to dance along to the DJ's music, play a game of cornhole, or simply enjoy the view.
Location: Bate Commons, Mattocks Hall, North Carolina History Center
Event Price: $50 plus tax

https://www.tryonpalace.org/events/winterfeast-oysters-brews-and-comfort-foods-1
Also on the 29th, take a Behind the Scenes Tour of the Costume Shop at 2:00 p.m. at the Tryon Palace Waystation, (252) 639-3500.
On The Big Screen
Bear Town Cinema 6: 2806 Trent Rd., (252) 638-1820
Other Groups and Activities:
Tuesday, January 29, 2019
New Bern Historical Society offers an encore presentation of John Levy's lecture The Story of Ghent Historic District. The lecture will be held at The North Carolina History Center The last event, earlier this month, sold out quickly. To reserve your spot with a suggested donation of $10 visit the Historical Society's office at 511 Broad St., New Bern or call 252-638-8558.
Thursday, January 31, 2019
Point-in-Time-Count: Volunteers are needed to help in counting homeless individuals  from 7 a.m. to 6:30 p.m. at Religious Community Services. The goals are to help organizers better understand the nature and extent of the current trends in homelessness and respond to unmet needs and gaps in services for homeless individuals and families in Craven, Jones and Pamlico Counties. This information is crucial in allocating federal and state resources to our area. If interested, please contact Reeshema Walker, DVOP at (252) 514-4828 ext. 24.
Don't Forget To Check Out these Places: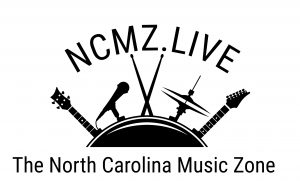 For more Live  Music News, sign up an keep the beats with NCMZ.live,  and be sure to like the New Bern Music Calendar Facebook page.
Check out Jungle Jump of New Bern – it's an indoor bounce arena with an obstacle course and arcade games (252) 772-3742;  go skating at Rollerland (633-3804), solve a mystery at the Bear Towne Escape Room (919) 288-4764, or try paramotoring with ParaFlight (703) 963-7389. Do you prefer ballroom dancing? Visit the Rivertowne Ballroom (252) 637-2003.
Take advantage of over 20 parks and recreation facilities maintained by New Bern Parks & Recreation (252) 639-2901 and Craven County Recreation & Parks (252) 636-6606. Introduce your dog(s) to new friends or just let them run around at the Down East Dog Park at Glenburnie Park, please know that you need to register first and receive the gate code before you can enter (252) 639-2901.
Visit the New Bern-Craven County Library as they have a lot of fun programs, events, and resources! They offer children's programs, computer usage, and technology workshops, book clubs, writer's workshops, open mic night, live music, children's theatre, movie screenings, and rentals, meeting rooms, historical and genealogy research, and much more! (252) 638-7800.
Learn more about our town by taking a self-guided walking tour or have locals take you on a tour: African American Heritage Tour, Architectural Walking Tour, and Churches & Cemeteries Tour, Historic Homes Tour, Revolutionary War Heritage Tour, and Walk to Remember Tour (based on Nicholas Sparks books)  (252) 637-0250 Bear Town Bears self-guided tour; New Bern's Civil War Battlefield Park (252) 638-8558, Scenic Airplane Ride by Tradewind Aviation (252) 636-0716, and Trolley Tour (252) 637-7316.
Take a walk in the woods in the Croatan National Forest. The forest's habitat has carnivorous plants like the Venus flytrap, pitcher plant, sundew, butterwort, bladderwort among other exotic plants. The Croatan spans approximately 160,000 acres and is located in New Bern's backyard. It's a sanctuary for black bear, deer, wild turkey, quail, coyote, bald eagle, beaver, bobcat, porcupine, American alligator, red-tailed hawk, and other wildlife you may see. For maps and more information, talk to the people at the Croatan National Forest's Ranger's Station on Hwy 70 E (252) 638-5628.
Be Noticed Here NOW!
To be a part of this Fun For All Weekly Feature be sure to send your events and specials to Tracey Stones. Email information to tracey@nclifemedia.com. To advertisers and sponsors, please call or text Tracey to set an appointment today (318) 789-6929.
Tracey Stones