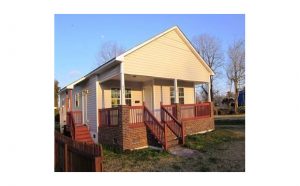 Habitat for Humanity of Craven County will celebrate the dedication home #64 at a ceremony on January 27 at 822 Howard Street in New Bern from 4:00 to 5:00 pm. The new homeowner, Sheila Williams, is looking forward to moving into the home with her four children, ranging in age from 17 to 2 years. Ms. Williams moved to New Bern about four years ago and was accepted into the Habitat Homeownership Program last year. She is a part-time student at Craven Community College and sees this home as an opportunity to provide her family with a stable foundation for a better life.
Mike Williams, Executive Director of Habitat for Humanity of Craven County explained that this home is being purchased by Ms. Williams who has committed to performing 300 sweat equity hours to work on building other Habitat homes as well as volunteering in the ReStore.  She will also be attending the new series of Life Skills & Financial Literacy classes for new homeowners that begin in February.  Representatives representing the New Bern Chapter of the Sons of the American Revolution will present the family with an American flag and a copy of the U. S. Constitution. At the end of the ceremony, after the family is presented with the key to their new home, supporters and guests will be invited inside for a tour of the home and for light refreshments.
Through donations of money and materials, as well as over 125 volunteers contributing labor, Habitat for Humanity of Craven County is able to make this home available at an affordable price with a no-interest loan.
Founded in 1989, Habitat for Humanity of Craven County has built 65 homes, impacting over 100 adults and 120 children. Of these homes, mortgages have now been fully paid on 16 and a special Mortgage Burning Party is planned on February 25 for the most recent 5 mortgages completed. For more information, visit CravenCountyHabitat.org.
Submitted by: Deedra Durocher, Volunteer Coordinator, Habitat for Humanity of Craven County