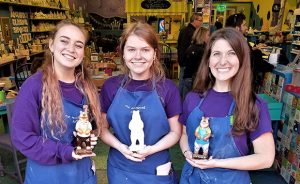 The Accidental Artist is the go to place in Downtown New Bern for people of all ages to create one of a kind masterpieces!
What recently caught my eye was their miniature "bear" molds where you can create your own bear!
The Accidental Artists friendly and accommodating team is always happy to help you create your own masterpieces! You don't have to be an artist – hence the name, "accidental". But once you've seen the finished product so many people walk away with smiles on their face!
It's a terrific place for singles, families, or groups of all ages! They even have private party rooms for groups! They always have fun class going on and pottery to paint!
To be honest with you, I've visited the Accidental Artists numerous times throughout the year, but I'm not very creative when it comes to painting. But I've been very tempted to take a few hours off and paint a bear. I've been hung up on the theme and need to get past it and just do it! I don't know what I'm waiting for as their trained staff is there to help customers make the most of their experience.
They also have many other molds to choose from, as I've just been fascinated with the miniature bears since I saw the one they thoughtfully made for as a Christmas present for Mitchell Hardware!
If you haven't visited the Accidental Artist, we highly recommending stopping in their unique shop at 219-A Craven Street and Paint Your Own Pottery! For more information, check out their website or give them a call at 634-3411.
While you're there, tell them New Bern Now said hello!
Tell us what you think by sending us an email or calling 252-638-6858. Stay up to date on the latest happenings by subscribing to our daily email.
Wendy Card