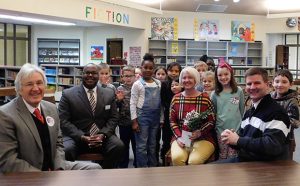 Edward Jones Financial Advisor Mike Bass partnered with Partners In Education to award a $100 gift card to Sheila Lambert, 2nd grade teacher at Ben D. Quinn Elementary.
Curtis Gatlin, principal at Ben D. Quinn Elementary says Ms. Lambert, "Has been a strong leader and team player in 1st, 4th, and now 2nd grade. After the hurricane, there was an opportunity for an additional 2nd grade teacher and Mrs. Lambert graciously volunteered to move to 2nd Grade.  Her new students and their parents love her!"
The Edward Jones Teacher Recognition Award demonstrates the company's commitment to positively changing the lives of students and families in our community. Mr. Bass also brought a rose for every teacher and cafeteria worker at the school!
If you would like to learn how your organization can make a difference to a Craven County Schools teacher in the classroom, please contact Darlene Brown, Partners In Education, at 514-6321.
Submitted by: Darlene Brown, Craven County Partners in Education