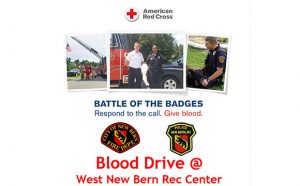 The City of New Bern is teaming up again with the American Red Cross to host a "Battle of the Badges" blood drive.  This event will be held at West New Bern Recreation Center, 1225 Pinetree Drive on Friday, January 4th from noon until 6pm.
The "Battle of the Badges" is a popular competition between police departments and fire departments.  The goal is to bring in as many blood donations as possible.  Whichever team recruits the most donors who give blood that day wins a trophy.  In New Bern's first "Battle of the Badges" held in July 2018, the numbers were close all afternoon.  The teams traded the lead back and forth.  In the end, the New Bern Police Department recruited 80 units of blood, while Fire-Rescue recruited 73.
While this friendly competition is certainly fun, the need for blood donations is critical especially in the wake of hurricane Florence.  "We ended up cancelling several blood drives that were scheduled in the last few months of the year," said Kristin Willis, Donor Recruitment Specialist with the American Red Cross.  "Our region was hit hard by the storm and families were getting their first look at the damage then starting the long road to recovery."  Cancelling those blood drives means Craven and Carteret counties lost out on approximately 500 blood donations, and the Carolinas lost out on approximately 6,000 blood donations.  Those donations are desperately needed to help hospitals get through the holidays and the winter months.  Severe winter weather over the weekend also impacted the Red Cross' efforts, forcing the cancellation of donor events and the closure of donation centers.  The American Red Cross has issued an immediate call for blood donations and has elevated the shortage level from critical to severe.
"We enjoy the competition and look forward to making a comeback this time," said New Bern Fire-Rescue Chief Bobby Boyd. "But in the end, what's most important is that we collect blood donations.  We hope the community will come out and support the City's efforts to replenish blood banks during this time of need."
T-shirts (while supplies last), food and beverages will be available at the blood drive.  The winner of "Battle of the Badges" will be announced on Friday, January 11th.
Appointments are encouraged.  If you would like to make an appointment to give blood, please contact Kristin Willis at (252)341-1325 or visit RedCrossBlood.org and search by zip code to find the City of New Bern blood drive.  You can also download the Red Cross Blood Donor app to your smartphone to locate blood drives and book appointments.
Submitted by: Colleen Roberts, Public Information Officer, City of New Bern