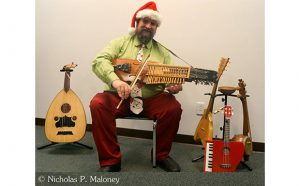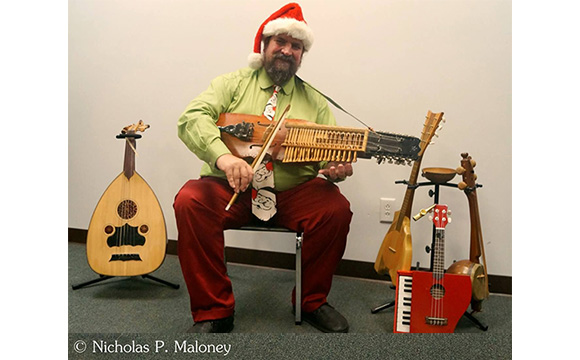 Simon Spalding offers a new spin on the season: holiday music played on international instruments!
Simon Spalding plays Bella's Cafe in downtown New Bern on Friday, December 21, presenting "Around the World in 80 Carols". The concert features musical instruments from around the world:  each instrument will play a seasonal carol or song.  The program includes Christmas and Hanukah carols, as well as holiday season favorites.
Besides hearing exotic sounds, the audience will learn about the stories behind some of our most cherished seasonal music.  Learn the answers to these questions:
– Which singer had a hit Christmas song in two consecutive years, with two different songs?
– Which Christmas song was composed by a San Francisco jazzman?
– What was the Christmas lyric that Judy Garland refused to sing?
– Which hit Christmas song was popularized by a veterinarian and his wife?
– Which Christmas song author-singer-producer appeared in the Alfred Hitchcock thriller "Rear Window"?
The instruments include a nyckelharpa from Sweden, a kemane from Uzbekistan; a joura from Greece; a rajao from Madeira; a balalaika from Russia; a Tahitian Ukulele; an erhu from China; and a kazookeylele, which combines ukulele, toy piano, and kazoo into one in!
Bella's Cafe (formerly Bebop's) is at 323 Middle Street in New Bern.  The doors open at 6:00, and the music begins at 7:00 pm.  Tickets are $10, available at the door.  Free admission for those under 18.  Call 252-633-7900 for more information.
Celebrate the holidays in fine style at this unusual concert!
Simon's CDs featuring many of the instruments played in the concert, will be for sale at the concert.  Simon has a new CD of  pirate music!  For more information on Simon's music, check out his website: www.musicalhistorian.com.
Submitted by: Simon Spalding