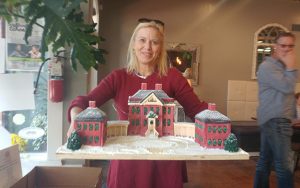 Bidding Closes December 15
Yes, this amazing image of Tryon Palace, sitting in the window of Bella's Cafe, is a work in gingerbread! And you can add it to your own holiday decorations! The New Bern Historical Society is holding a silent auction on site with bidding running through December 15th inside Bella's Café.
This work of art is created by Mary Hamilton Chiles as a tribute to her mother, and Historical Society Board Member and tireless volunteer, Nancy Chiles. Nancy was key in the Historical Society's success last year with the first Gingerbread Contest. Mary Hamilton has donated her work to be auctioned with the proceeds supporting New Bern Historical Society projects. The silent auction is set up inside Bella's Cafe & Catering at 323 Middle Street. Please be sure to go see this wonderful work of holiday art and put your bid in! The auction will close on December 15 and the winner will be notified.
The Tryon Palace gingerbread is part of the 2nd annual Gingerbread House Contest and Display presented by the New Bern Historical Society.  Wonderful gingerbread creations are displayed at 12 merchants throughout downtown New Bern:  Nautical Wheelers, Bella's Café & Catering, Carolina Creations, Mitchell's Hardware, WITN, The Four C's, Edward Jones, Be-Spoke Custom Florals, Ballantyne Framing and Art, The Birthplace of Pepsi, US Post Office and Trent River Realty
"We send our unending thanks to Mary Hamilton Chiles for this beautiful work remembering a beautiful lady!" explained Executive Director Mickey Miller. We also thank Sandy Quinionez of Bella's Cafe & Catering for sharing their brand-new window space!"
All of the gingerbread houses will be in place until December 18th.
The mission of the New Bern Historical Society is to celebrate and promote New Bern and its heritage through events and education.  Offices are located in the historic Attmore Oliver House at 511 Broad Street in New Bern.
For more information, call 252-638-8558 or go NewBernHistorical.org or Facebook.com/NewBernHistoricalSociety.
Submitted by: Kathy Morrison, Public Relations, New Bern Historical Society