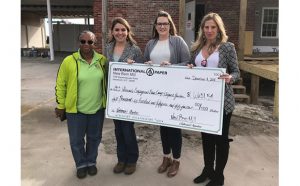 International Paper staff members presented a $6,651.54 donation to Veterans Employment Base Camp and Organic Garden (VEBCOG) to provide umbrellas and seating for the youth agricultural training program at the Farmers Market Complex being renovated at the old Electric building at First St. The grant is funded by International Paper Foundation.
VEBCOG is located within the community where the Farmers Market is being developed through federal, state, foundation and corporate funding. Thirty six percent of the immediate neighborhood residents live below the poverty rate at $29,026. The project being proposed is one part of three main activities:  creation of a youth entrepreneurship farmers market, training kitchen and fresh food café.
VEBCOG's primary mission is to assist homeless veterans with transitional employment and horticultural therapy. They also provide agricultural training for new and beginning veteran farmers and ranchers, who will make use of the Farmers Market Complex along with other vendors in the area.
The Farmers Market Complex project, which is not slotted to open until 2020, will allow youth employment into agricultural/forestry and civic programs and bring their participation to a site dedicated in part, to education, stewardship and civic responsibility and result in a positive learning experience.
Veterans Employment Base Camp and Organic Garden is launching its Farmers Market Complex campaign and has raised 2% of its goal of $450,000. Charitable gifts from individuals and organizations are tax deductible. Gifts may be made online at VeteransOrganicGarden.org or in person or by mail to 419 Conner Grant Rd, New Bern, NC 28562. Please note that the donation is for the Farmers Market Complex.
Submitted by: Lovay Wallace-Singleton, Executive Director, Veterans Employment Base Camp and Organic Garden