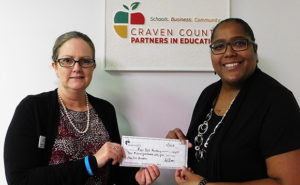 Roger Bell New Tech Academy, a New Tech Network (NTN) school, received a $4,565 donation from the employees at NTN, with a matching portion from the organization, with coordinated giving through Partners In Education.
These funds will be used by RBA principal Michelle Lee (Craven County Principal of the Year, 2018-19) to assist with the recovery from Hurricane Florence for her school and her students.
Graysen Walles, Director, District and School Development for NTN explained that he had the greatest empathy for the schools in Craven County and was humbled to represent his organization in this endeavor. It is these rays of sunshine that help our schools return to a sense of normalcy as they strive to reach every child, every day.
For information on how you or your organization can support Craven County Schools through Partners In Education, contact Darlene Brown at 514-6321 or visit our website at CravenPartners.com.
Submitted by: Darlene Brown, Partners In Education