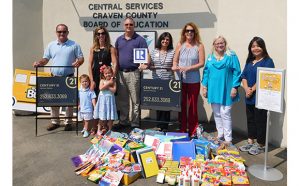 Craven County Partners In Education was recently presented with items donated for the Stuff the Bus campaign by the staff and agents at Century 21 Zaytoun-Raines for the 6th consecutive year.
It is through generous community partnerships that Stuff the Bus is able to meet the needs of those students who have been identified as in-need in Craven County Schools.
The Stuff the Bus event was held Saturday, August 25. However, donations are accepted throughout the year.
Contact Darlene Brown at 514-6321 to arrange a dropoff! She will be sure that your donated supplies get in the hands of those most in need.  A school supply list can be found at CravenPartners.com.
Submitted by: Darlene Brown, Executive Director, Craven County Partners In Education